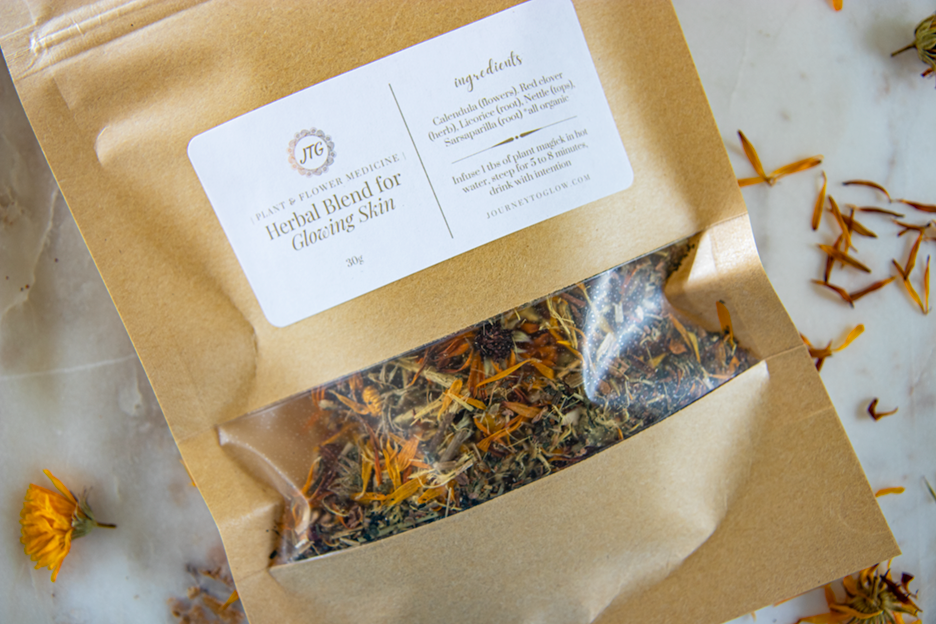 Description
Calendula officionalis is a gut healer (and a healthy gut is key to clear, glowing skin!) therefore it is the star of this blend.
The bag contains 30g


*Use your products within 3 months for optimum plant potency.
How To Use
How to make a delicious cup of Glow Tea:
1 heaping tsp in a strainer, pour hot (filtered) water over it. Steep for 5 minutes. Never use unfiltered tap water, the water must be pure.

You may also want to make a decoction which means 3 TBS in 3 cups of boiling (filtered) water, simmer for 15 minutes then leave it to rest for 30 minutes. Drink everything within a day, leaving it in the frig overnight if you have some leftover.
Ingredients
*Calendula officinalis (flowers), *Red clover (herb), *Licorice (root), *Nettle (leaf), and *Sarsaparilla. *Organic.
About the botanicals in this blend
Benefits of Calendula officionalis:

Calendula, a really good friend of mine, is known for its anti-inflammatory properties thanks to its powerful flavonoids. These plant-based antioxidants protect cells from free radical damage and pro-inflammatory compounds like C-reactive protein and cytokines.

Calendula tea is commonly used to help remedy peptic ulcers, gastroesophageal reflux disease (GERD), and inflammatory bowel disease (IBD). It supports the healing of gastric and intestinal inflammation from infection or irritation through its vulnerary (wound healing), anti-inflammatory, and antimicrobial actions
If you are currently struggling with a skin "issue", you cannot ignore the gut / skin connection. Healing your gut is crucial to healing your skin and our friend Calendula is a dear ally on this journey.

Benefits of Nettle (Urtica dioica):

Known as an overall nourisher and strengthener, stinging nettle leaf (Urtica dioica) is full of vitamins and minerals most notably magnesium, calcium, iron, and protein that can be easily assimilated. (Wood, 1997 & Weed, 1989)