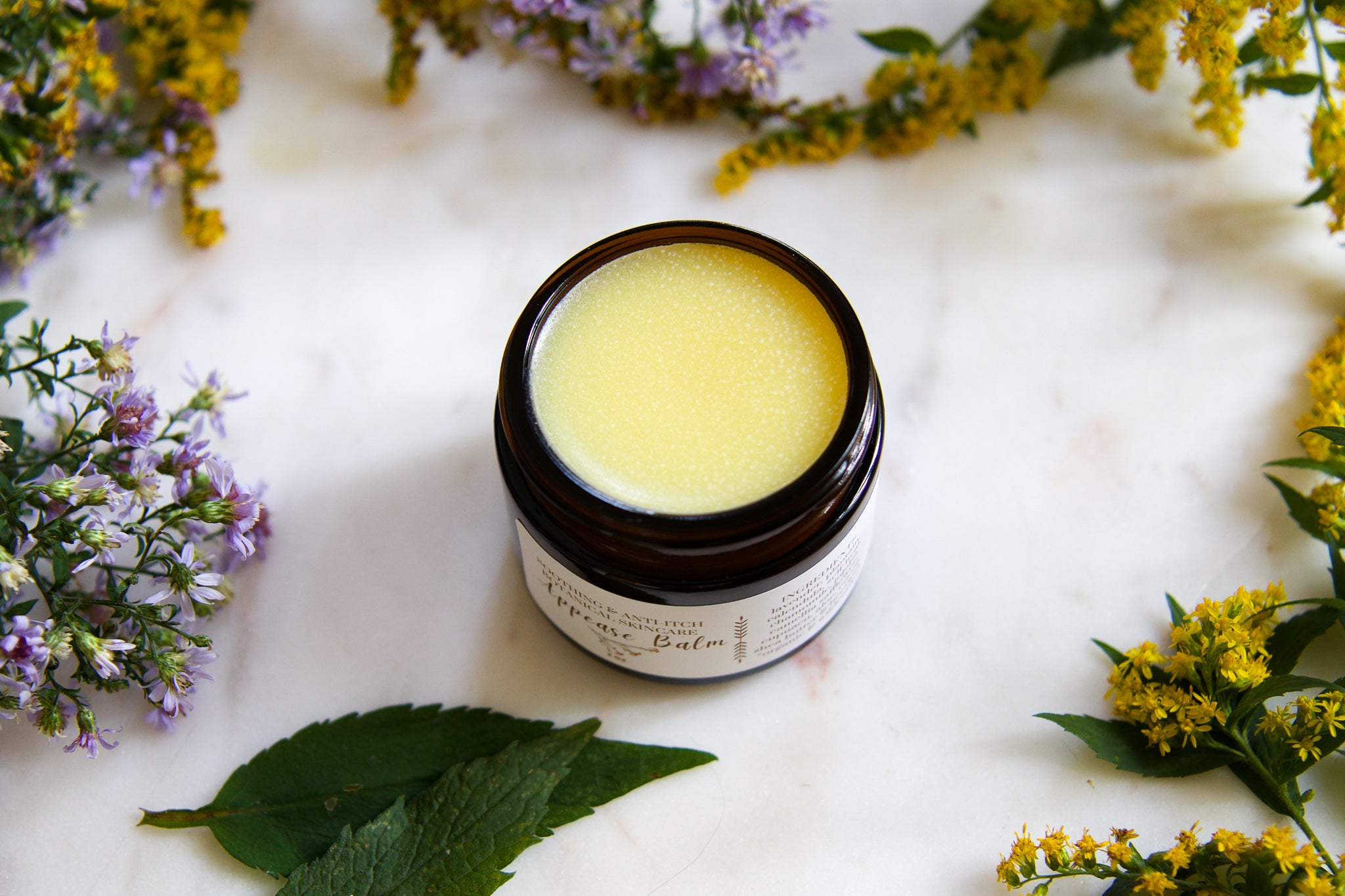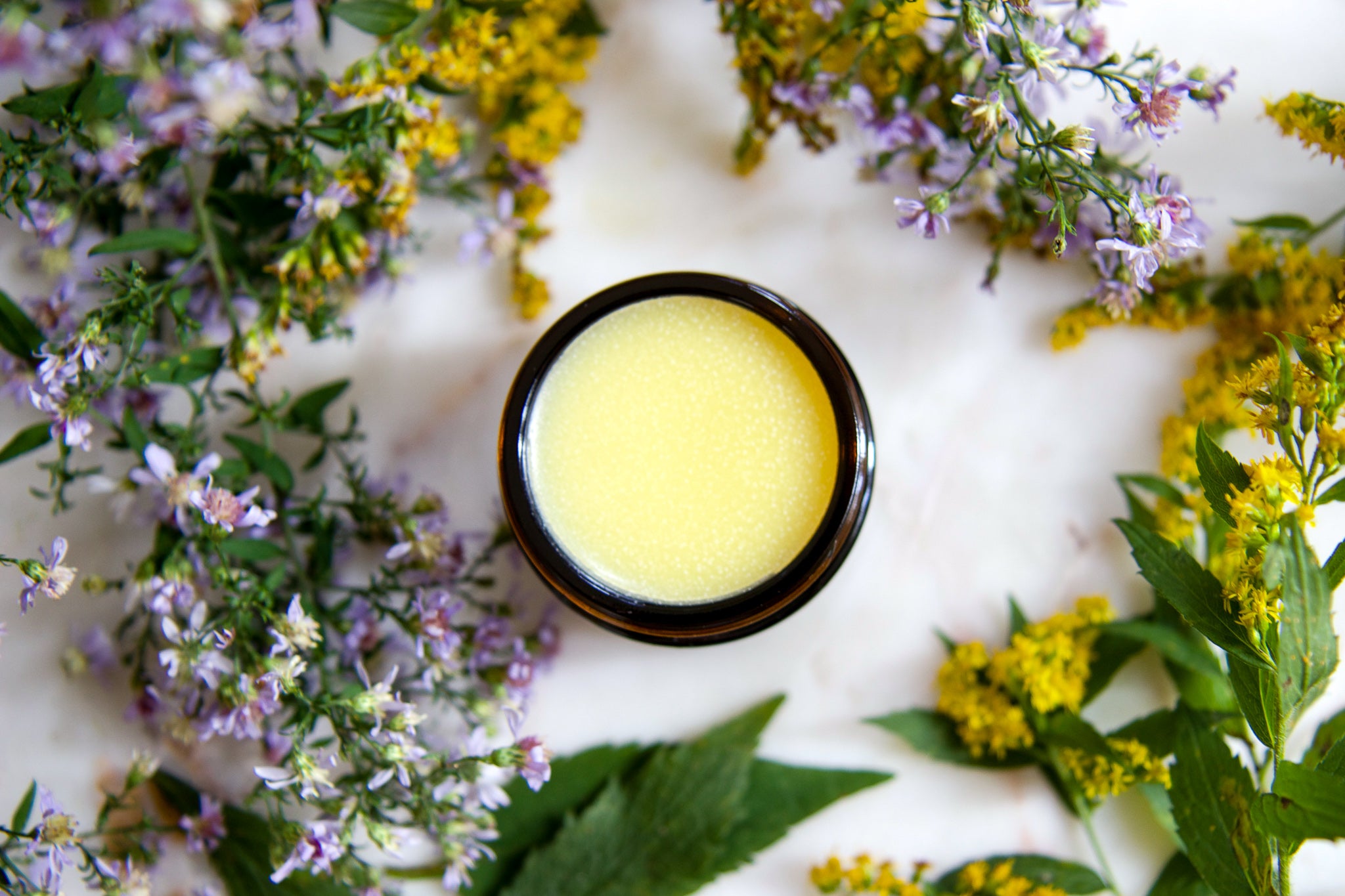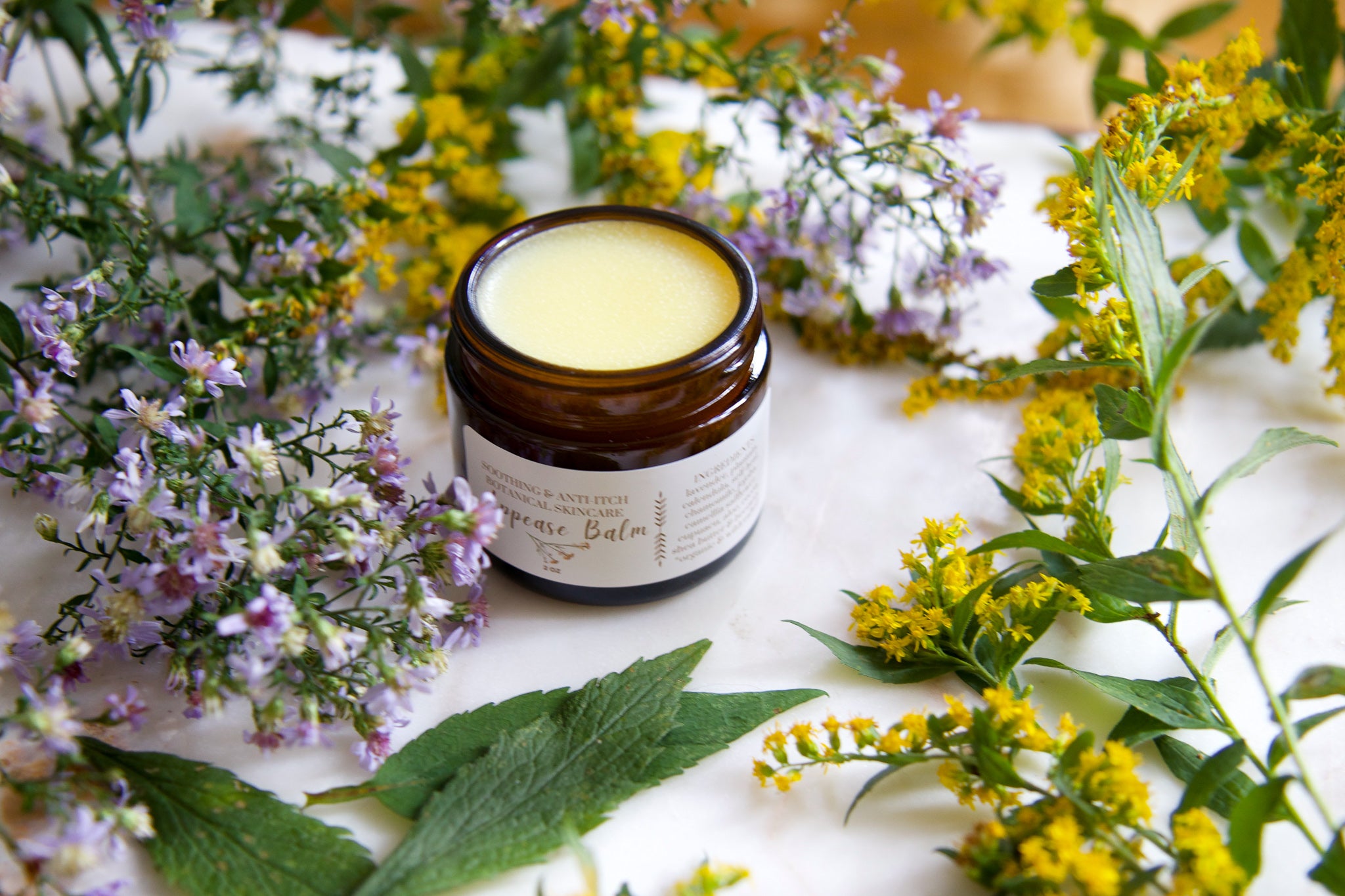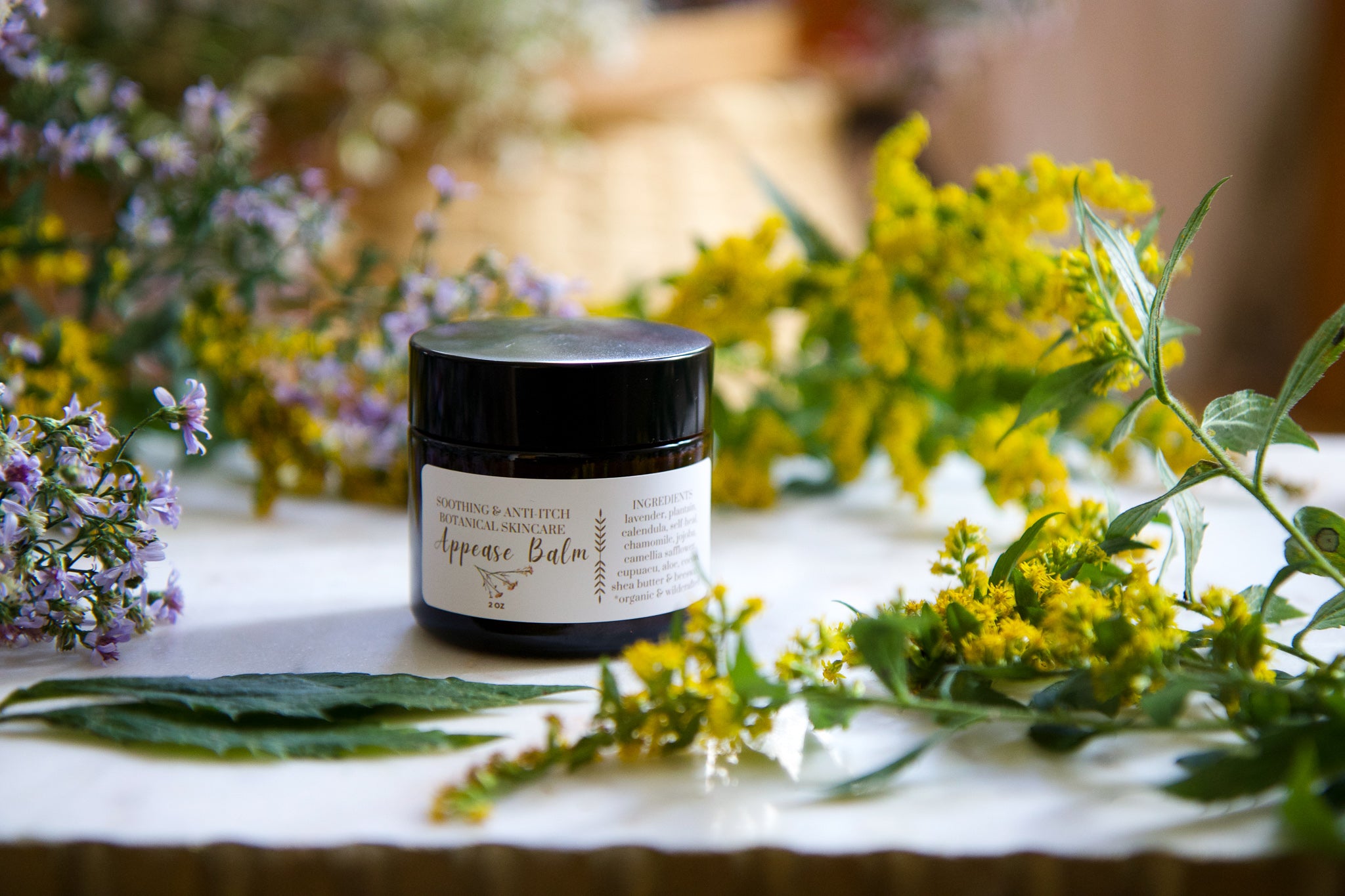 Appease After Sun + Anti-Itch Protective Balm
Description
The Appease After Sun + Anti-Itch Protective Balm is the sister product to the Appease After Sun + Anti-Itch Face Oil.
This balm is deeply appeasing + soothing after sun exposure. 
Crafted for rosacea "flare-ups", eczema, dermatitis, psoriasis, bites and rashes. This balm is also very effective if stung by a bee or wasp. (I tested the balm myself after being repeatedly stung by a yellow jacket this summer.)

If you have experienced rosacea "flare-ups" with symptoms such as redness, heat (sometimes a burning sensation) and itchiness, you know how uncomfortable they can be.

Causes of flare-ups vary based on bio-individuality and can be due to stress, hormonal changes, EMF exposure, histamine overload, food sensitivities, nervous or immune system dysregulation. 
While doing the deeper healing work, use The Appease After Sun + Anti-Itch Protective Balm to soothe itches and skin discomforts.
The balm transforms into a deliciously soothing oil when warmed in the palm of your hands and is protective to harsh climates such as winter, excessive air conditioning or sun exposure.
The balm penetrates deeply and does not feel oily. Mixing it with the Aloe MSM Serum is absolutely divine, your skin's barrier will feel hydrated and soothed.
The Soothing Flower Water is also extremely soothing (thanks to Melissa and Immortelle flowers) and will balance the PH of your skin. Use it before applying the balm.
Can be used on the face or anywhere on the body that needs soothing. 

2 OZ
How To Use
Gently massage a little more than pea size of Appease After Sun + Anti-Itch Protective Balm to clean skin. A little goes a long way.

I suggest applying after using the Soothing Flower Hydrosol which balances the PH of skin.

Another way to use the balm, especially after a day in the sun, is to apply when coming out of the shower. Leave some droplets on your face and body and apply the balm while still wet. Feel your skin drink in the botanicals and soothe... :)
Ingredients
**Chamomile, ***lavender, ***starflower (borage), ***calendula flowers, **plantain, *jojoba, *safflower, *camellia, *cupuacu, *aloe butter, *cocoa butter, *shea butter and a touch of *beeswax nurture, soothe and lock in moisture.

*organic
**wildharvested from pristine environment
***pesticide-free garden-grown
About the botanicals in this blend

Plantago ssp (Plantain leaf) is a go-to herb for just about any kind of rash, irritation, bite, sting, or wound. It soothes, cools, disinfects, staunches bleeding, speeds tissue healing, and extracts toxins. I dream of a day when we stop calling it a "weed" and call it what it really is: a miracle worker. Ever gotten stung by a yellow jacket or wasp? You'll wish plantain blessed your grass! It will stop the sting in 5 seconds flat.

Lavandula angustifolia (Lavender)
Lavender is widely known for its nervine properties, it's incredibly relaxing to the nervous system. Just the aroma itself can help reduce stress and anxiety. As a cell regenerator, it can help prevent scarring as well as relieve rashes, itch, and sun-damaged skin.

Borago officionalis (Starflower) energetics of this plant is cooling and moistening
External uses: Skin infections and inflammation such as dermatitis, eczema, psoriasis, pimples, herpes and nail fungus just to name a few.


Calendula officionalis major benefits is healing wound/scars and killing bad bacterias making ideal for acne rosacea as well as psoriasis, acne and eczema. Calendula also supports the lymphatic system (used externally and internally) the lymphatic system being foundational to healing skin "issues".
Appease After Sun + Anti-Itch Protective Balm