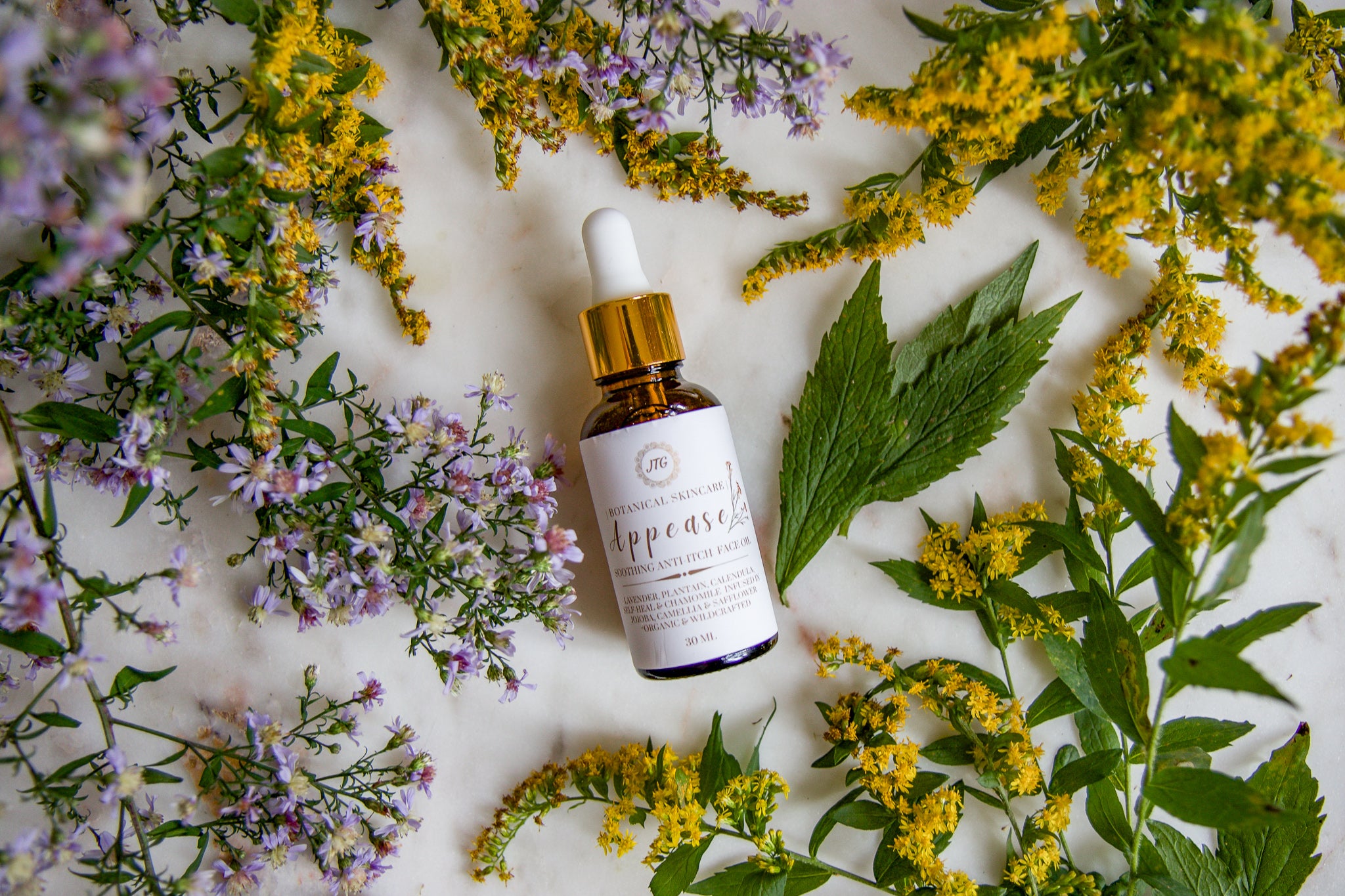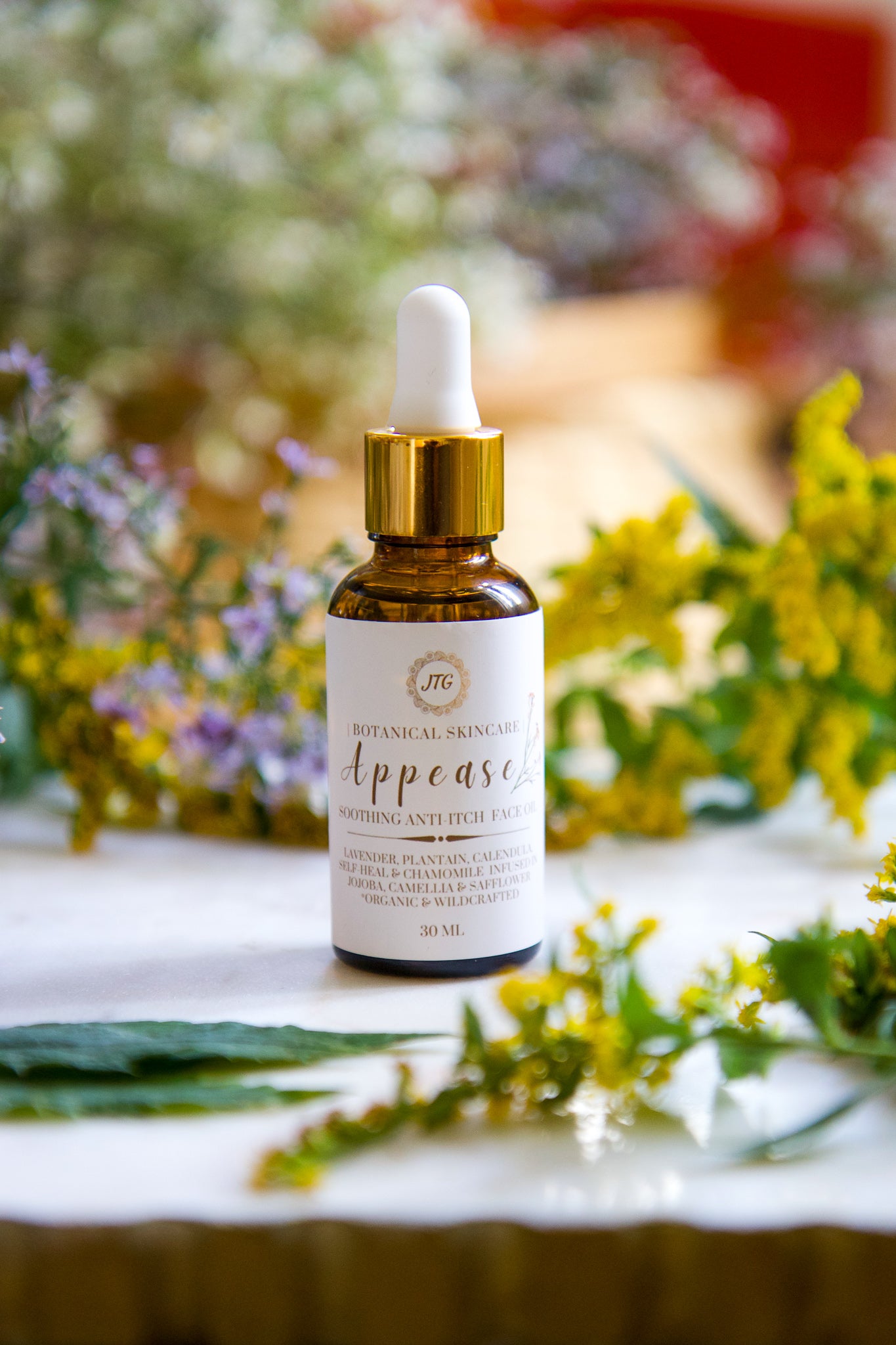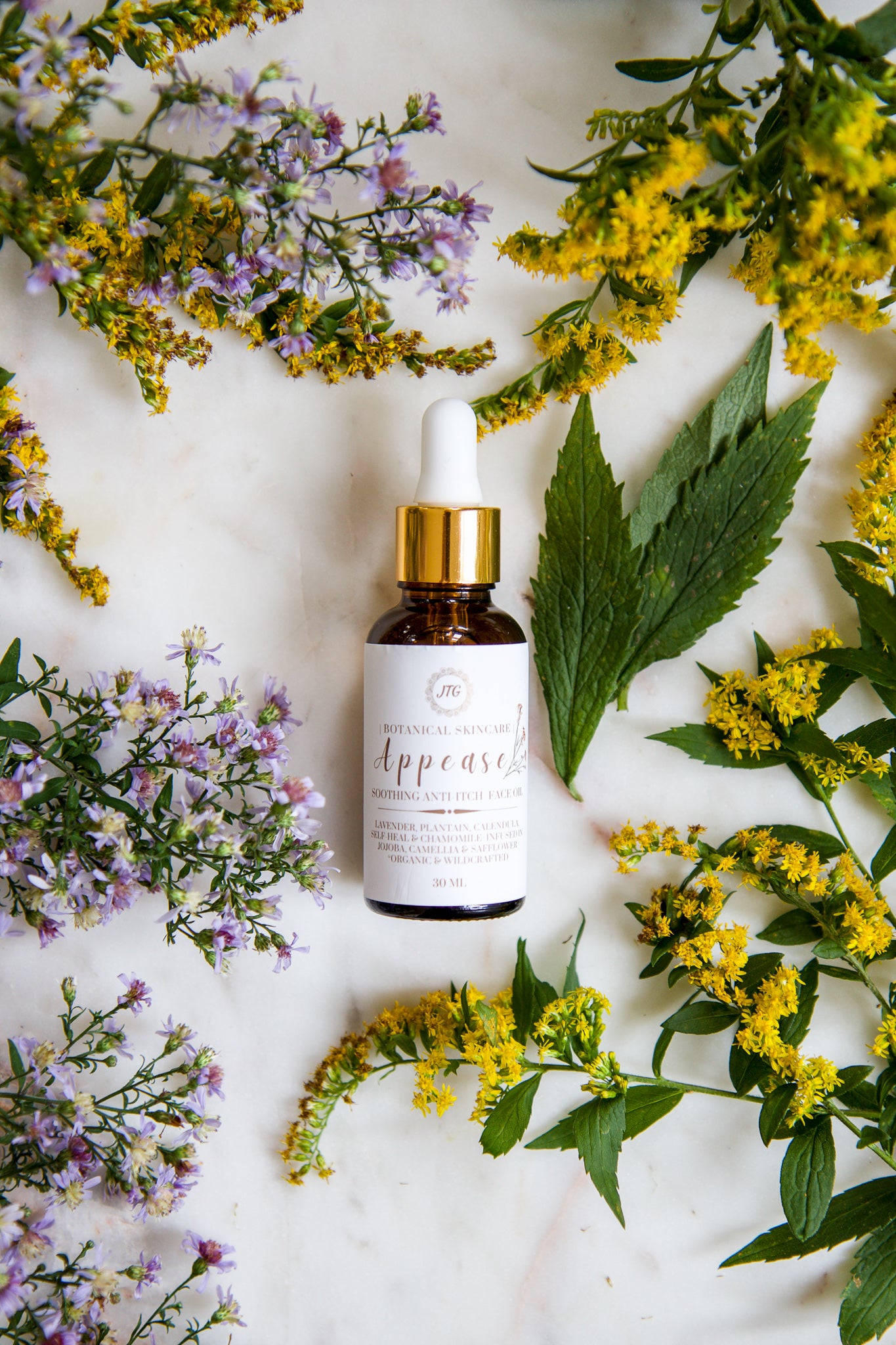 Description
Appease Face Oil
Created for rosacea "flare-ups", dermatitis, eczema, psoriasis and rashes, this luxurious face oil is also extremely soothing at the end of the day spent in the sun.

The pure + active botanicals in Appease nourish and help repair a damaged skin barrier.
The organic carrier oils in Appease are fast absorbing and bring fast relief calming aggravated skin.
After Sun Care: apply on clean skin in areas of concern. Gently massage the oil or press in using the palm of your hand is your skin feels sensitive to the touch.
The Appease Balm is also a great option to apply on the face or body after sun exposure and to protect the skin barrier against harsh elements.
Anti-Itch / Flare-ups:
If you have rosacea, you may have experienced a sudden flare-up with symptoms ranging from redness, heat and itchiness. This can happen in the middle of the day, during hormonal changes, or at night. 

Causes of flare-ups vary based on someone's bio-individuality from stress, hormonal changes, EMF / blue light exposure, food sensitivities, nervous or immune system dysregulation. 
While the mainstream narrative will have you manage triggers (a great way to chase your tail quite frankly) a more long-term strategic approach is to get to the actual root cause.
While you do the deeper healing work, the Appease Face Oil will be a great ally in soothing skin discomforts.

The dominant aroma is chamomile followed by lavender with a hint of plantain (grassy, earthy).
The oil penetrates deeply and does not feel oily. Mixing it with the Aloe MSM Serum is absolutely divine, your skin will drink the concoction and breathe a sigh of relief.
Don't forget to start by misting the Soothing Flower Water which is very soothing and will balance the PH of your skin. 

30ML


How To Use
Apply 6 to 8 drops to a clean face or areas of concern.

You may use the Soothing Flower Water first to balance the PH of your skin.

Mix the Appease After Sun + Anti-Itch Face Oil with the Aloe MSM Serum for added soothing benefits.

The oil can be used on face or body.

*Use your products within 6 months for optimum plant potency and leave in a cool, dark place.

Ingredients
**Chamomile, ***lavender, ***starflower (borage), ***calendula flowers, **plantain, *jojoba, *safflower

*organic
**wildharvested from pristine environment
***pesticide-free garden-grown
About the botanicals in this blend

Plantago ssp (Plantain leaf) is a go-to herb for just about any kind of rash, irritation, bite, sting, or wound. It soothes, cools, disinfects, staunches bleeding, speeds tissue healing, and extracts toxins. I dream of a day when we stop calling it a "weed" and call it what it really is: a miracle worker. Ever gotten stung by a yellow jacket or wasp? You'll wish plantain blessed your grass! It will stop the sting in 5 seconds flat.

Lavandula angustifolia (Lavender)
Lavender is widely known for its nervine properties, it's incredibly relaxing to the nervous system. Just the aroma itself can help reduce stress and anxiety. As a cell regenerator, it can help prevent scarring as well as relieve rashes, itch, and sun-damaged skin.

Borago officionalis (Starflower) energetics of this plant is cooling and moistening
External uses: Skin infections and inflammation such as dermatitis, eczema, psoriasis, pimples, herpes and nail fungus just to name a few.


Calendula officionalis major benefits is healing wound/scars and killing bad bacterias making ideal for acne rosacea as well as psoriasis, acne and eczema. Calendula also supports the lymphatic system (used externally and internally) the lymphatic system being foundational to healing skin "issues".