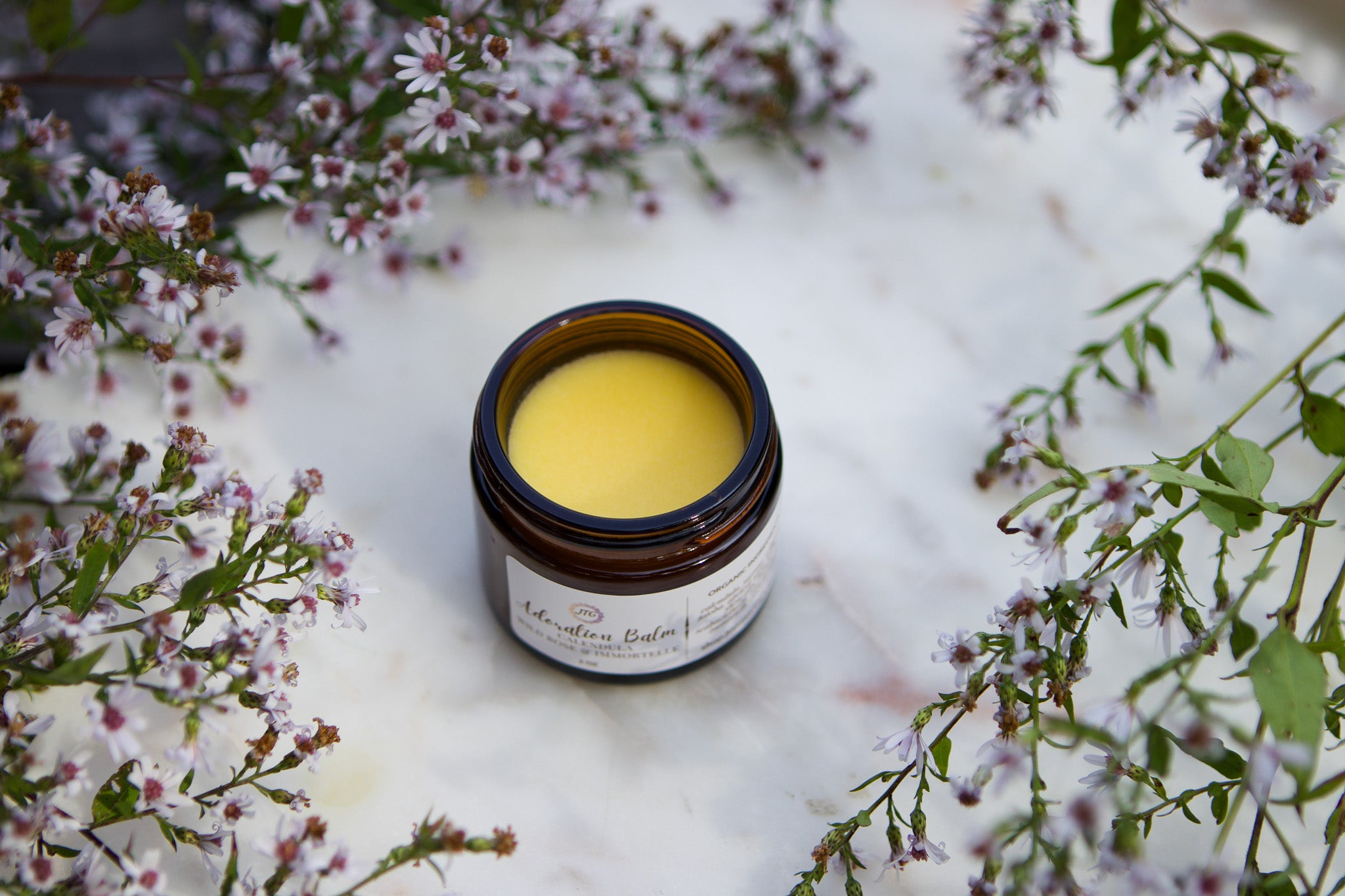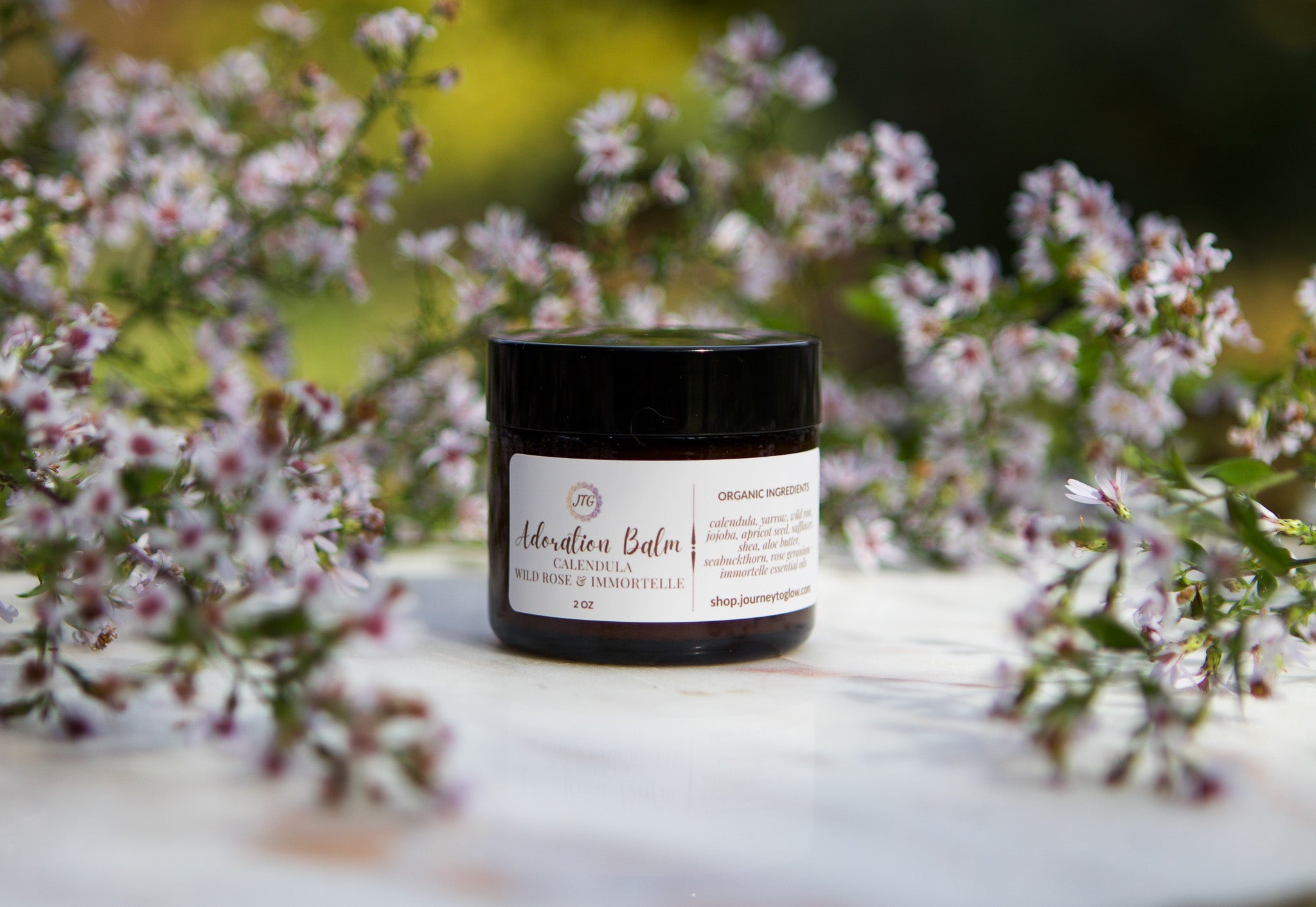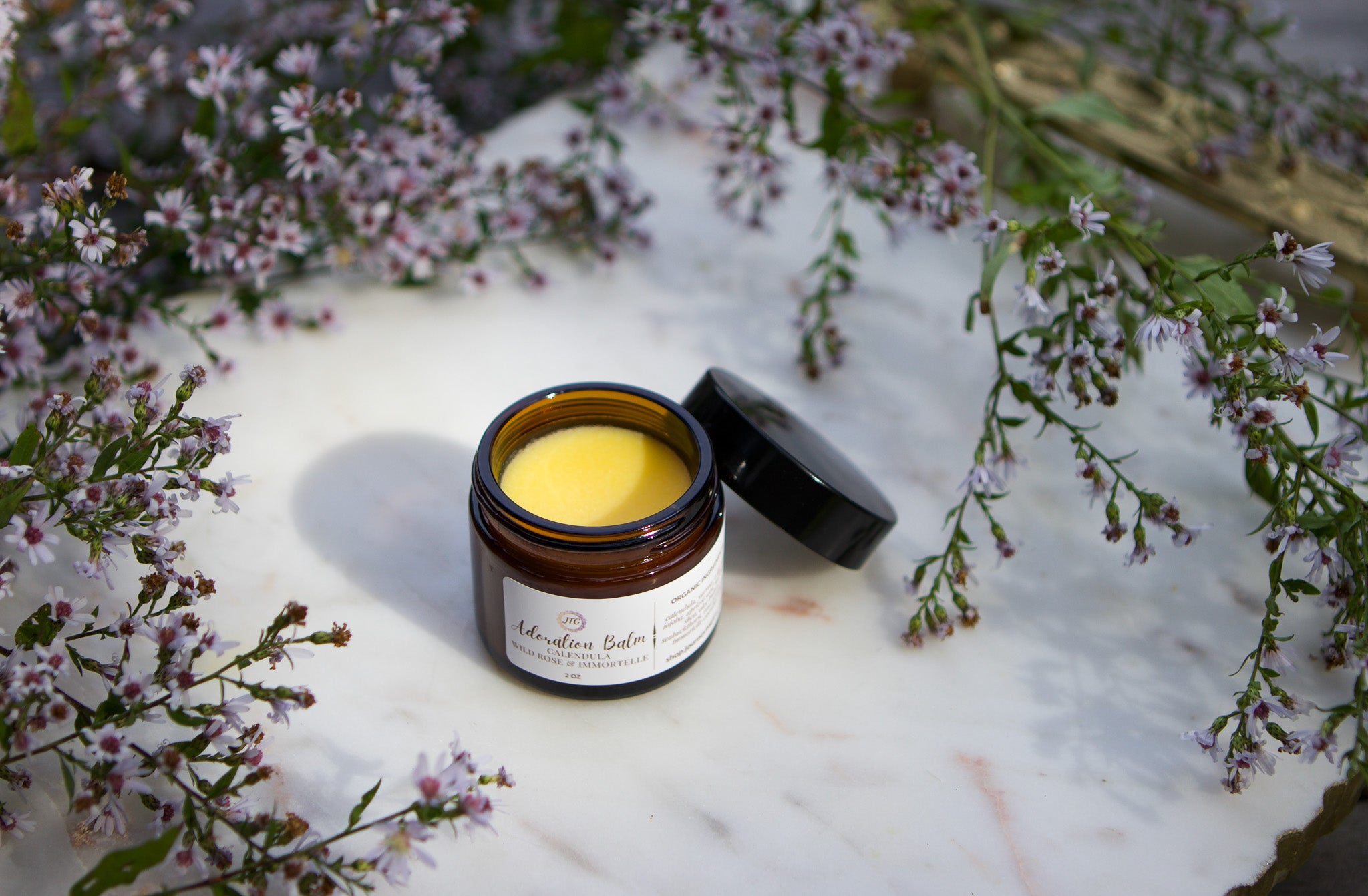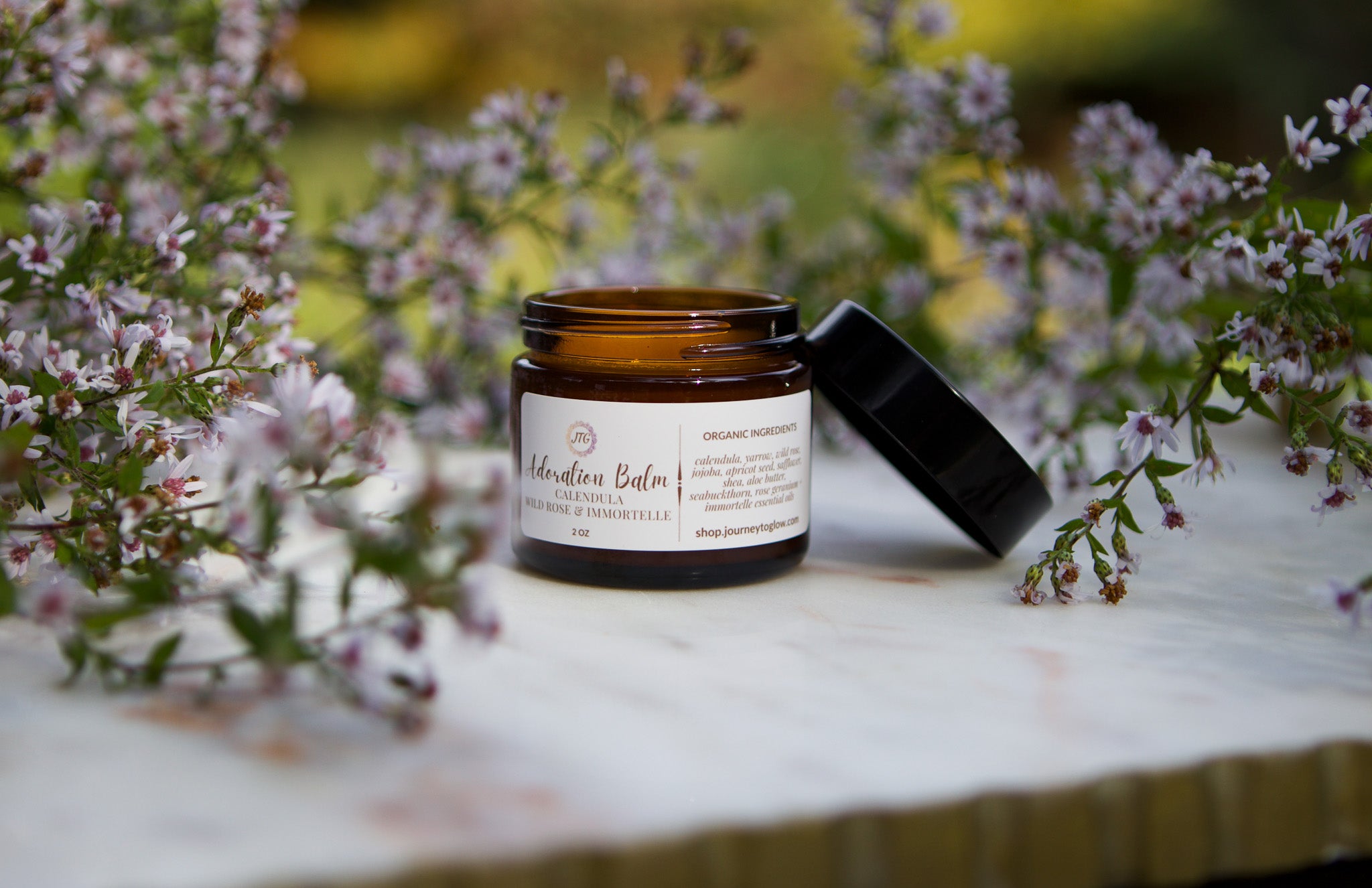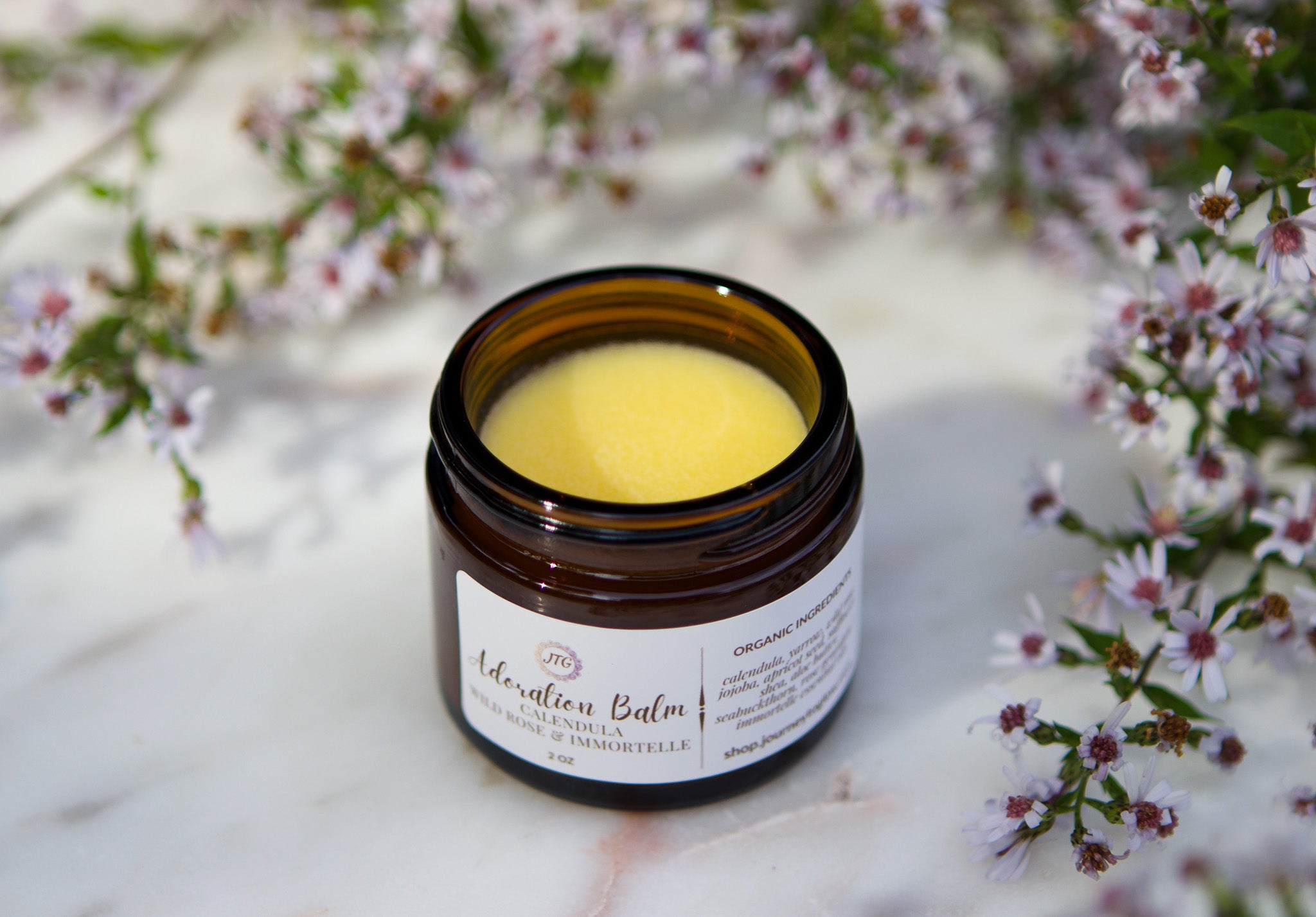 Adoration Calendula Wild Rose & Immortelle Balm
Description
Adoration Calendula, Wild Rose & Immortelle Balm
Calms and nourishes inflamed rosacea and sensitive skin.
For my die-hard fans of the Calendula Rose Balm, this is the NEW + IMPROVED (vegan) formula with added botanicals for MAXIMUM potency.
I chose to call this balm "Adoration" because I want you to adore and pamper your skin, even if it still shows signs of rosacea, dryness, inflammation... Let your skincare be a moment of grace and gentleness towards yourself. Make your skincare a daily ritual of self-love, a moment to tune into your body and skin's innate intelligence. 
Allow the botanicals infused in this potent, rejuvenating balm to work on your cells AND emotional body. Healing happens on a deep level, the medicine of rose, calendula and immortelle are here to support you.
This balm is deeply nourishing and calming to inflamed skin, restoring aggravated skin barriers to a calm and balanced state.
Click on ingredients to learn more about the plant and flower medicine used in this potent concoction.
2OZ
How To Use
Put a pea-sized amount in your hand, rub your hands together — inhale the blissful aroma — and apply to a dry face or after spritzing the Soothing Flower Water hydrosol.

*Use your products within 6 months for optimum plant potency and leave in a cool, dark place.
Ingredients
Made with **Calendula officionalis, **Yarrow (Achillea millefolium), **Wild rose ((Rosa multiflora), *Jojoba oil, *Apricot seed oil, *Safflower oil, *Shea butter (Butyrospermum Parkii), *Mango butter (Mangifera Indica Seed Butter), Aloe butter (non GMO soy, *cocos nucifera, tocopherol, Aloe bardensis leaf juice) *Seabuckthorn (HIPPOPHAE RHAMNOIDES FRUIT OIL), ***Geranium (Pelargonium graveolens) and ***Immortelle (Helichrysum italicum) essential oils

*Organic
**Wildharvested
***Certified Pure Therapeutic Grade
About the botanicals in this blend
Calendula officionalis:
Besides being a potent rejuvenating plant, Calendula officionalis has antifungal, anti-inflammatory, and antibacterial properties. Calendula is a wound healer that helps repair cuts, breakouts, or inflamed skin.

Calendula flowers contain five powerful healing compounds: Oleanic Acid, Lupeol, Quercetin, α Amyrin, and β Amyrin. These compounds have been shown to provide antioxidant protection, soothe inflamed skin, and reduce itchiness.

Immortelle (Helichrysum italycum) essential oil:
Helichrysum is highly regenerating, healing, and hydrating. It's gentle on sensitive skin yet powerful enough to tackle tenacious breakouts, acne, dilated pores, circles under the eyes, even cellulite and stretch marks. Helichrysum essential oil is known to soothe inflamed skin, hives, redness, scars, blemishes and rashes.

Wild rose (Rosa multiflora):
The energetics + actions of Wild rose (Rosa multiflora) are Cooling (amazing for rosacea), anti-inflammatory, astringent, antiseptic, aphrodisiac and nervine (relaxing). Wild rose has many more herbal actions but these the ones that relate to supporting skin healing.

Constituents of Wild rose flowers:
B Vitamins, Vitamin C, Vitamin K, Carotene, Calcium, Potassium, Anti-Oxidants, Bioflavinoids, Polyphenols, Essential Oils

Yarrow (Achillea millefolium)
Yarrow has antimicrobial and pain-relieving properties, and is wonderful for soothing skin that is prone to irritations. It is also deeply nourishing and restorative. It aids in healing broken capillaries and is ideal for sensitive skin as well as problematic skin.

Energetically, Yarrow is a protector, which is why it is often used in alchemical blends and flower essences.
Adoration Calendula Wild Rose & Immortelle Balm