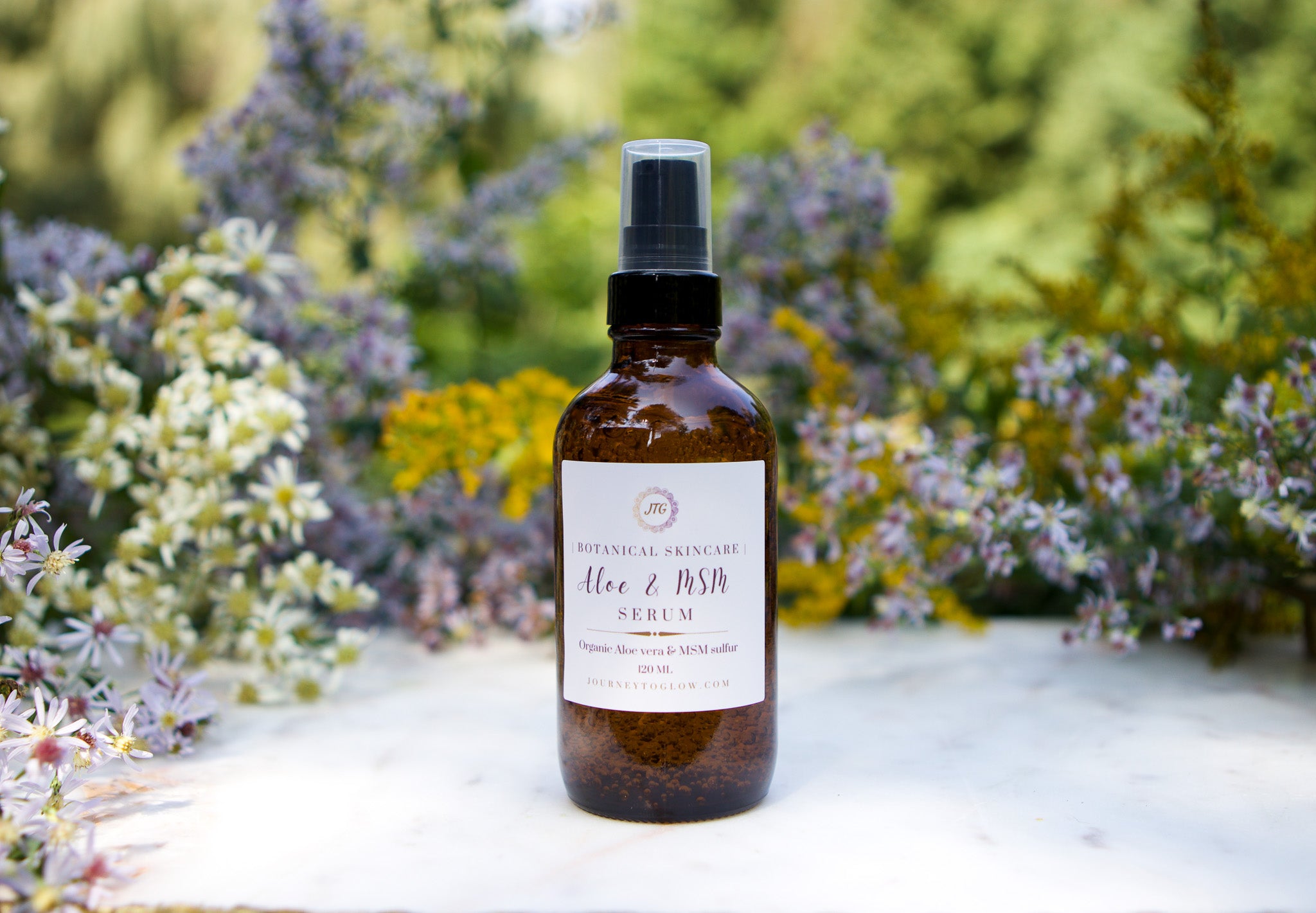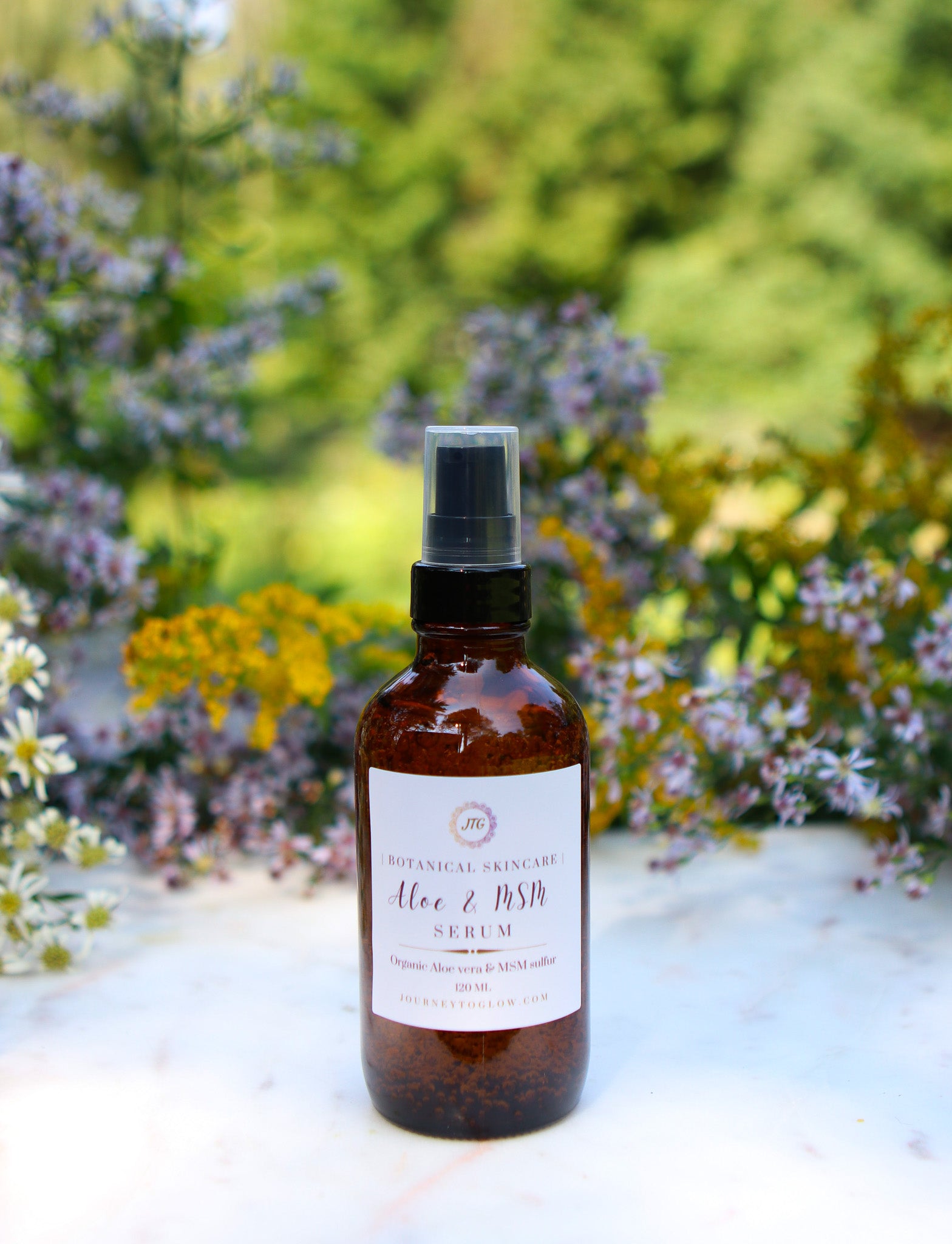 Aloe Vera & MSM Serum For Rosacea & Demodex Mites
Description
Aloe Vera & MSM Serum For Rosacea & Demodex Mites
This product is the reason I launched my botanical skincare line in the first place as I couldn't find a gentle, PURE yet effective product that would target Demodex and breakouts. Most products on the market for Demodex either contain parabens, sulfates and other nasty ingredients but they also completely damage the skin barrier which made no sense to me.
Aloe vera is rich in Vitamins A, C, E, and B12 and possesses antioxidant and anti-inflammatory qualities. It supports the skin's elasticity and suppleness while protecting it from environmental stressors.
The high water content of the Aloe & MSM Serum replenishes lost moisture in the skin while targets breakouts and damage caused by Demodex.
There are numerous studies that show the benefits of taking MSM as a supplement but lately, it has been used in skincare for several of its topical benefits such as:
• Smoother skin through the reduction of fine lines and wrinkles
• Improved skin texture and elasticity
• Support the collagen-building blocks of skin and keratin

From JAAD (Journal of the American Academy of Dermatology): "These antibacterial properties have been demonstrated against Propionibacterium acnes, some Streptococci, and Staphylococcus aureus. Sulphur has also been shown to kill Demodex mites, which have been implicated as a possible causative factor in rosacea." More on Demodex mites in this blog article.
Applying a small amount of Aloe & MSM Serum to irritated areas of the face and body has been shown to help treat acne, eczema, sunburns, and rosacea.

The Aloe Vera & MSM Serum For Rosacea & Demodex Mites is step 3 in the Rosacea / Demodex Skincare system. 
*This serum is best paired with one of our face oil such as the Radiantly Clear Face Oil or Calm Skin Calendula. Please see "how to use" for tips.
120ML
How To Use
After cleansing, mist the Soothing Flower Water then apply half a pump of Aloe & MSM Serum to localized area where you have Demodex breakouts. Always follow with face oil, otherwise the aloe will feel "dry" on your face.

You can also mix the Aloe & MSM Serum to 6 to 8 drops of Radiantly Clear or Calm Skin Calendula Face Oil in the palm of your hands, then apply to your face.

*Use your products within 6 months for optimum plant potency and leave in a cool, dark place.
Ingredients
Organic Aloe vera (Aloe bardadensis, Glycerin (emolient for skin), Carbomer (stabilizer), Triethanolamine (to stabilize and balance PH) , Phenoxyethanol (preservative)) and MSM (Methylsulfonylmethane) Organic Sulfur
About the botanicals in this blend
Aloe vera contains antioxidants, enzymes, Vitamins A and C, and has anti-inflammatory+ antibacterial properties. It helps alleviate itchiness and seals moisture into the skin.

Known for its potent humectant and restorative properties, Aloe Vera can deliver intensive hydration to the skin while improving the appearance and discomfort associated with skin damage and irritation. Aloe Vera Gel is commonly used to provide relief for minor cuts and scrapes, sunburn, redness, itchiness, and dryness. Its emollient qualities can also soften skin to reduce scars, roughness, or flakiness. Naturally rich in antioxidants, including Vitamins C, E, A, Aloe Vera is ideal for anti-aging applications as well.

MSM Organic Sulfur (Methylsulfonylmethane) has antiseptic, antibacterial, and antifungal properties.
Aloe Vera & MSM Serum For Rosacea & Demodex Mites