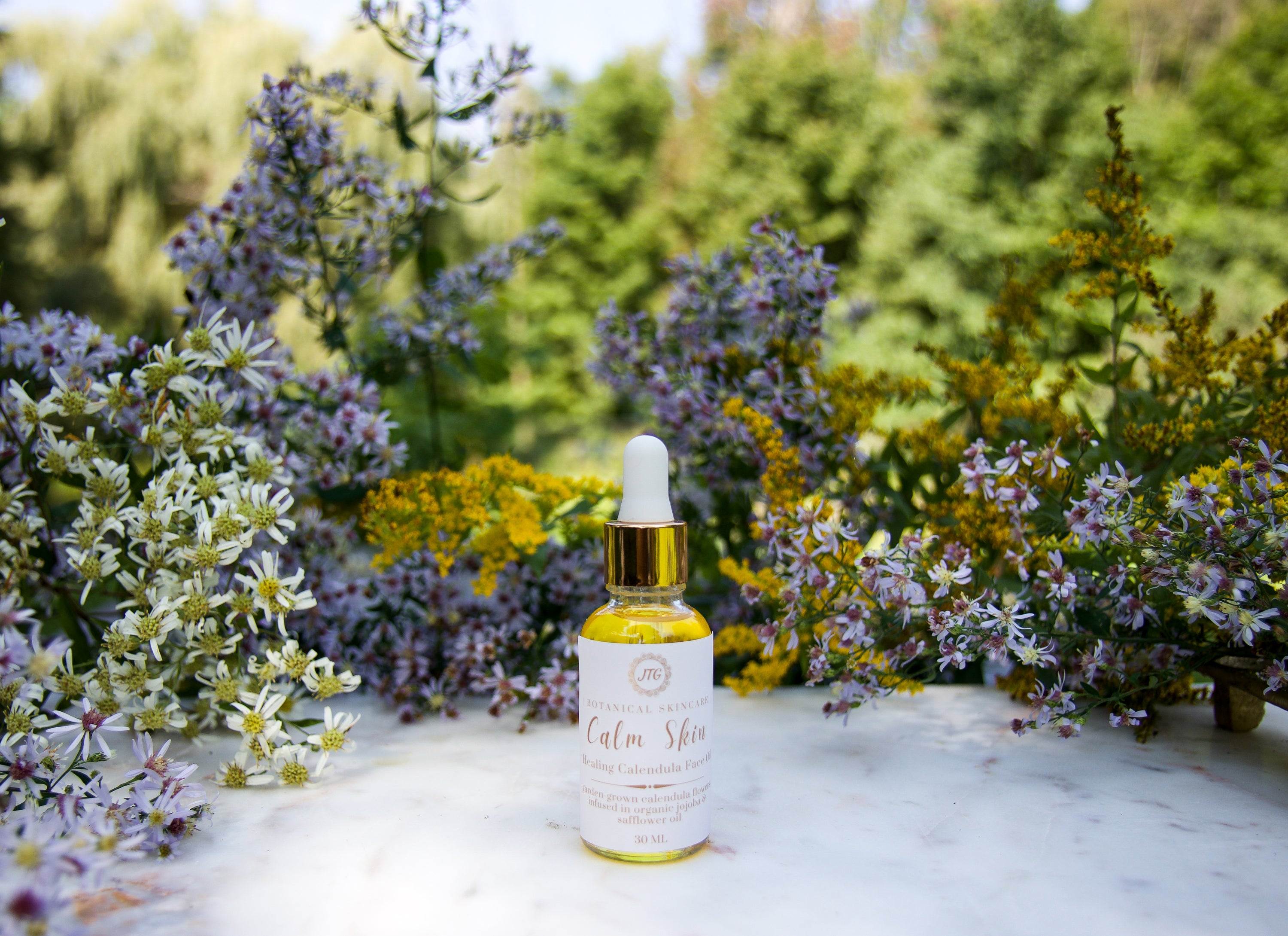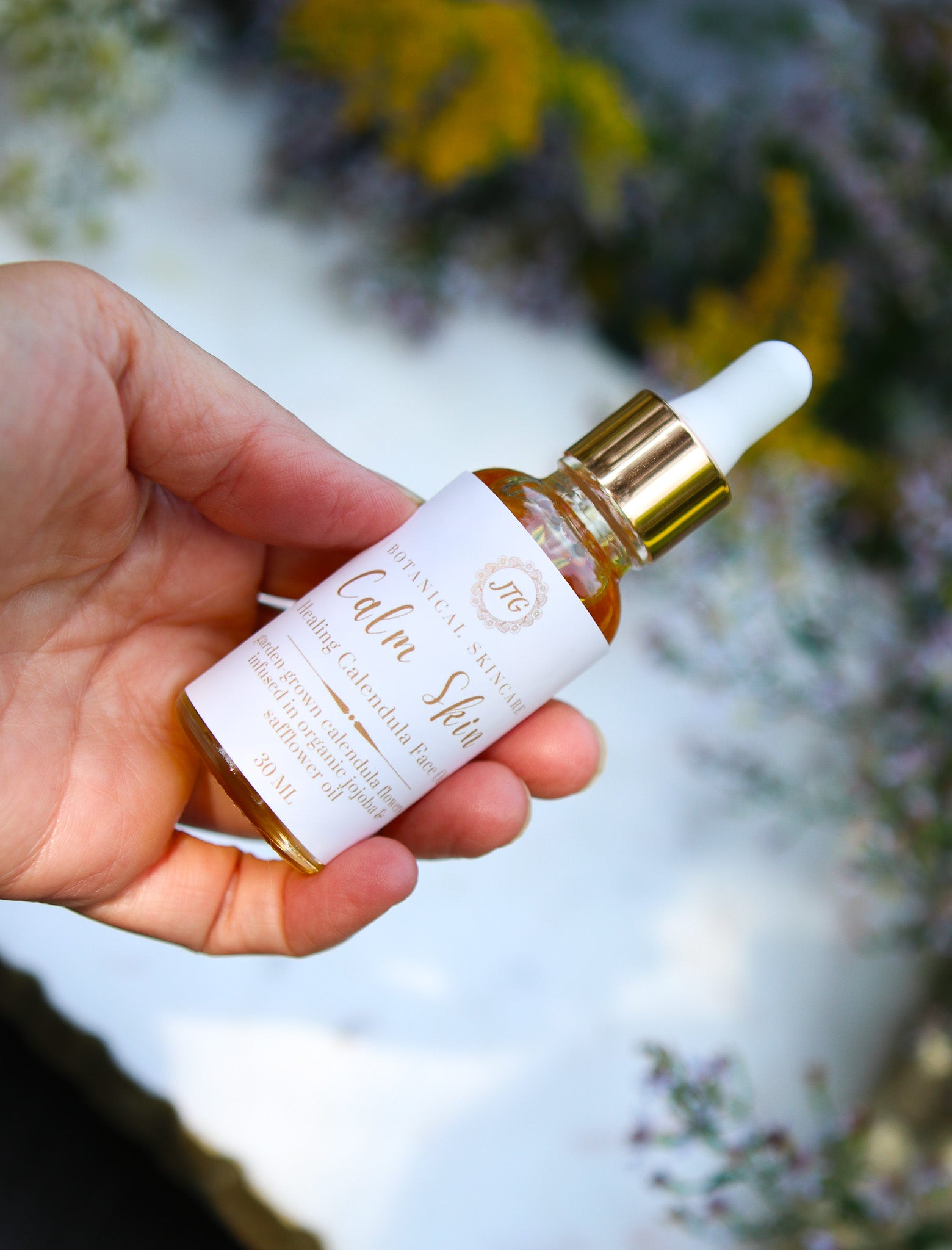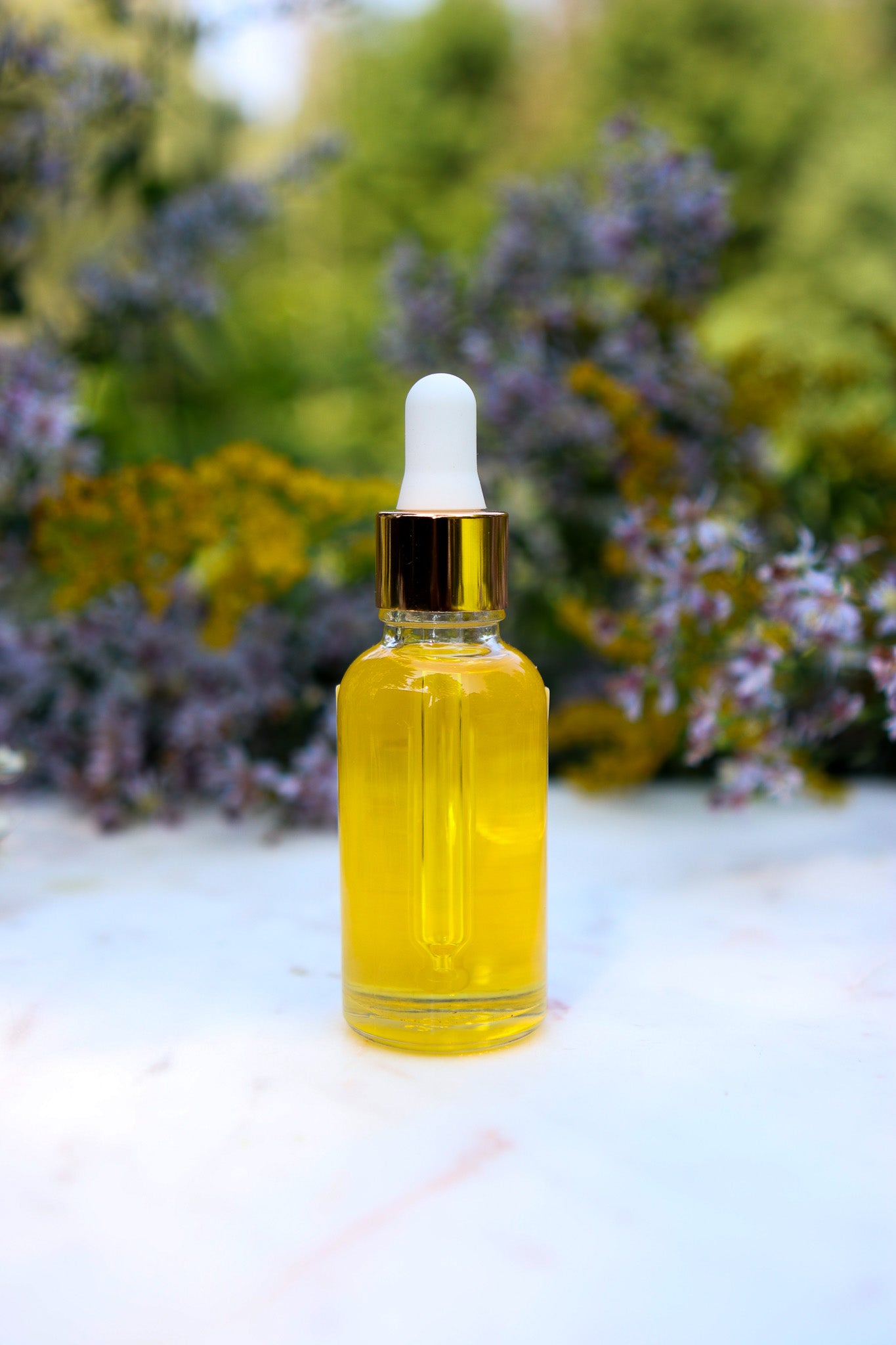 Calm Skin Calendula Face Oil For Rosacea
Description
Calm Skin Calendula Face Oil For Rosacea
If your skin is highly reactive to skincare products, start with Calm Skin Calendula Face Oil For Rosacea. It does not contain essential oils and it is deeply soothing to rosacea skin.
Working with Calendula flowers has been pivotal in my skin healing journey so much so that I decided to create a few key products made with flowers from my garden.
Calendulas have incredible skin healing properties, ideal for inflamed or easily aggravated rosacea-prone skin.
This face oil is crafted with pure, organic carrier oils which were infused with Calendula flowers over several months for maximum potency. (Most products on the market infuse their oils for just a few weeks, so you can be sure my products are POTENT, a little goes a long way.)
Think of Calendula as a wound healer that helps repair cuts, breakouts, or inflamed skin. 
I chose to infuse Calendula flowers in these particular carrier oils (as opposed to olive oil which you usually find on the market) to maximize the healing properties of the Calendula Face Oil.

This product does not contain essential oils.
30ml 
How To Use
Morning or night: add 5 to 6 drops in the palm of your hand, press your hands together — inhale the blissful aroma — and apply to a dry face or after spritzing your favorite hydrosol by pressing the oil gently onto your skin. Breathe deeply.

Apply your face cream or sunscreen over the oil if you'd like.

On a wound or cut: clean it first then apply a few drops to speed healing.

This face oil does not contain any essential oils so feel free to add a drop of a beloved essential oil.

*Use your products within 6 months for optimum plant potency and leave in a cool, dark place.
Ingredients
Made with organic jojoba oil and organic safflower oil. The carrier oils were infused with Calendula (grown in my garden) over several months for maximum potency.
About the botanicals in this blend
Calendula flowers contain five powerful healing compounds: Oleanic Acid, Lupeol, Quercetin, α Amyrin, and β Amyrin. These compounds have been shown to provide antioxidant protection, soothe inflamed skin, and reduce itchiness.

Besides being a potent rejuvenating plant, Calendula officinalis has antifungal, anti-inflammatory, and antibacterial properties.
Calm Skin Calendula Face Oil For Rosacea