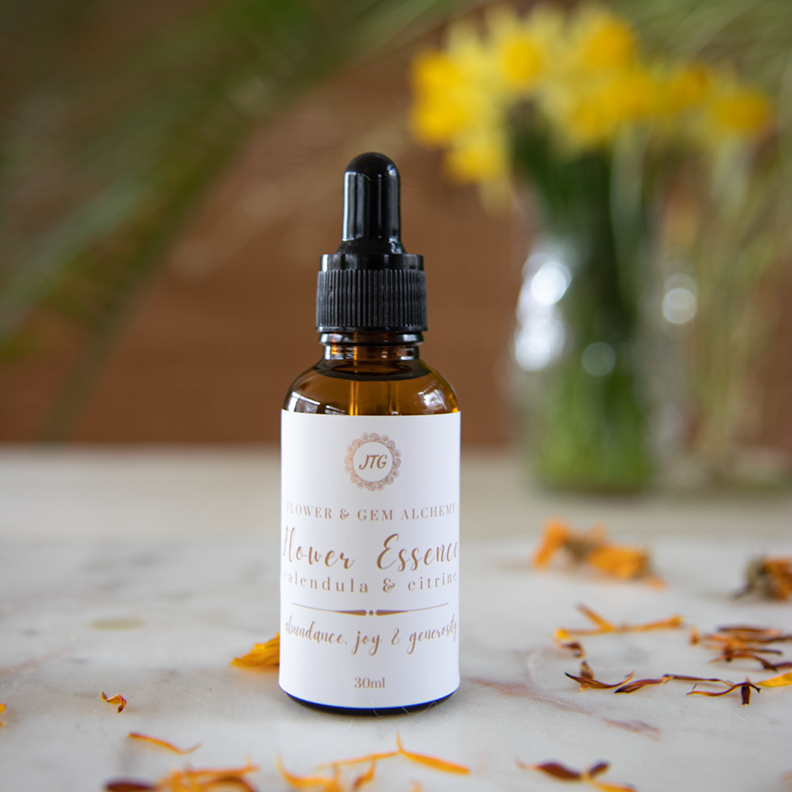 Calendula, Wild Rose & Citrine Essence
Description
This flower essence is a great ally when you feel called to embody ABUNDANCE, SELF-LOVE, JOY & GENEROSITY.
Flower essences work on an energetic level. They help shift stuck patterns so that we may move into higher states of consciousness. Practically this might look like shifting a negative thought pattern into a new, positive one which frees up mental + energetic space to create a new reality.

Flower Essences are taken internally (3 to 5 drops) 5 times a day. 
Watch this video to learn more.
30ml
How To Use
Put 5 drops under the tongue 5x a day. You can also add it to water, teas, coffee, or directly on your skin. Flower essences work energetically (emotional, physical, and mental bodies).

Feel free to start an entry in your journal as you work with a flower essence. It may take a day or 2 weeks to feel a shift. Tune in and notice thought patterns shifting without having to "work" on them. That's the magic of flower essences.
Ingredients
Essence of wildcrafted Calendula, Wild Rose and Citrine in gin + purified water.
About the botanicals in this blend
Flower essences work on an energetic level.

Wild Rose essence: boundless love, open-heartedness, it is safe to give and receive and to love oneself and others unconditionally.

Calendula essence: abundance, joy, generosity, resilience, wound healer (energetic)

Citrine essence: Magnetism, prosperity, clarity
Calendula, Wild Rose & Citrine Essence