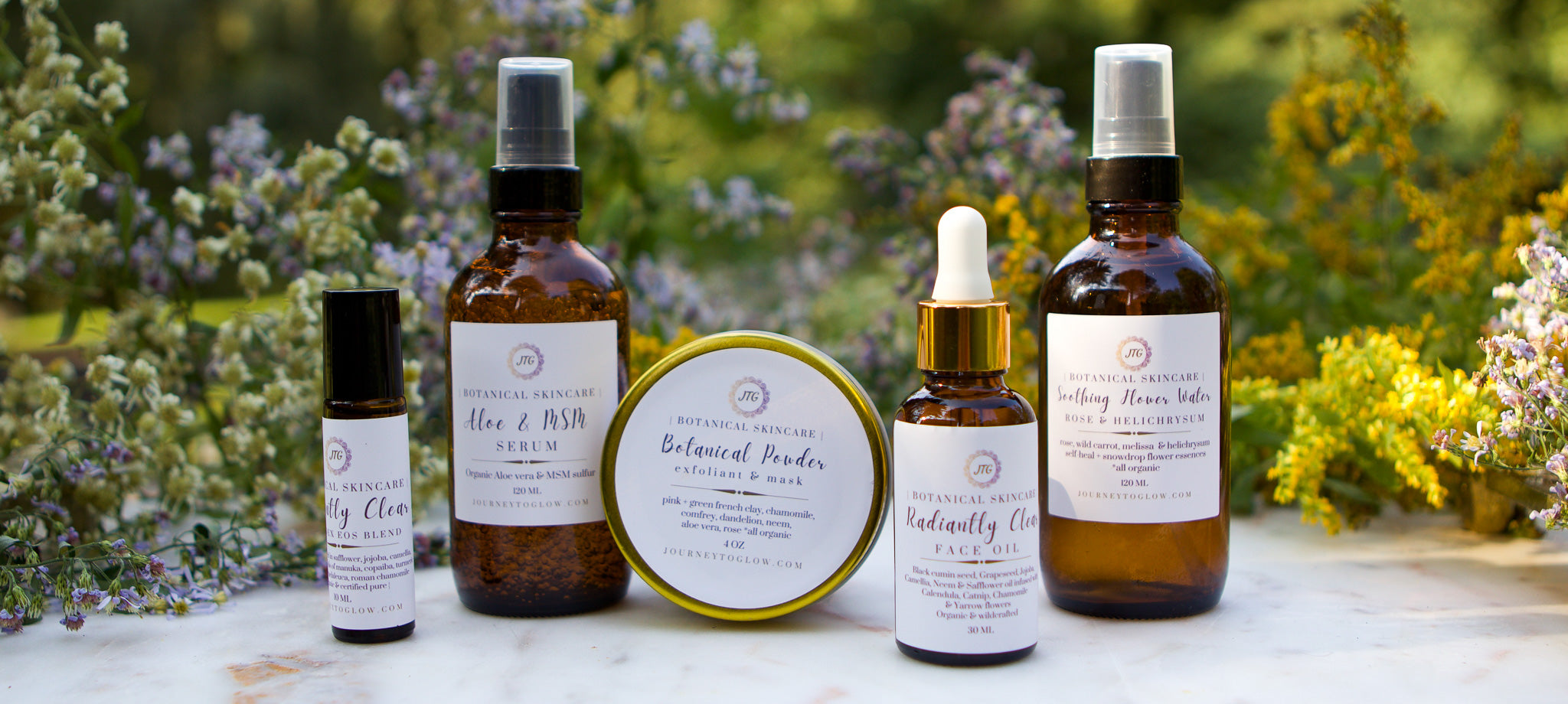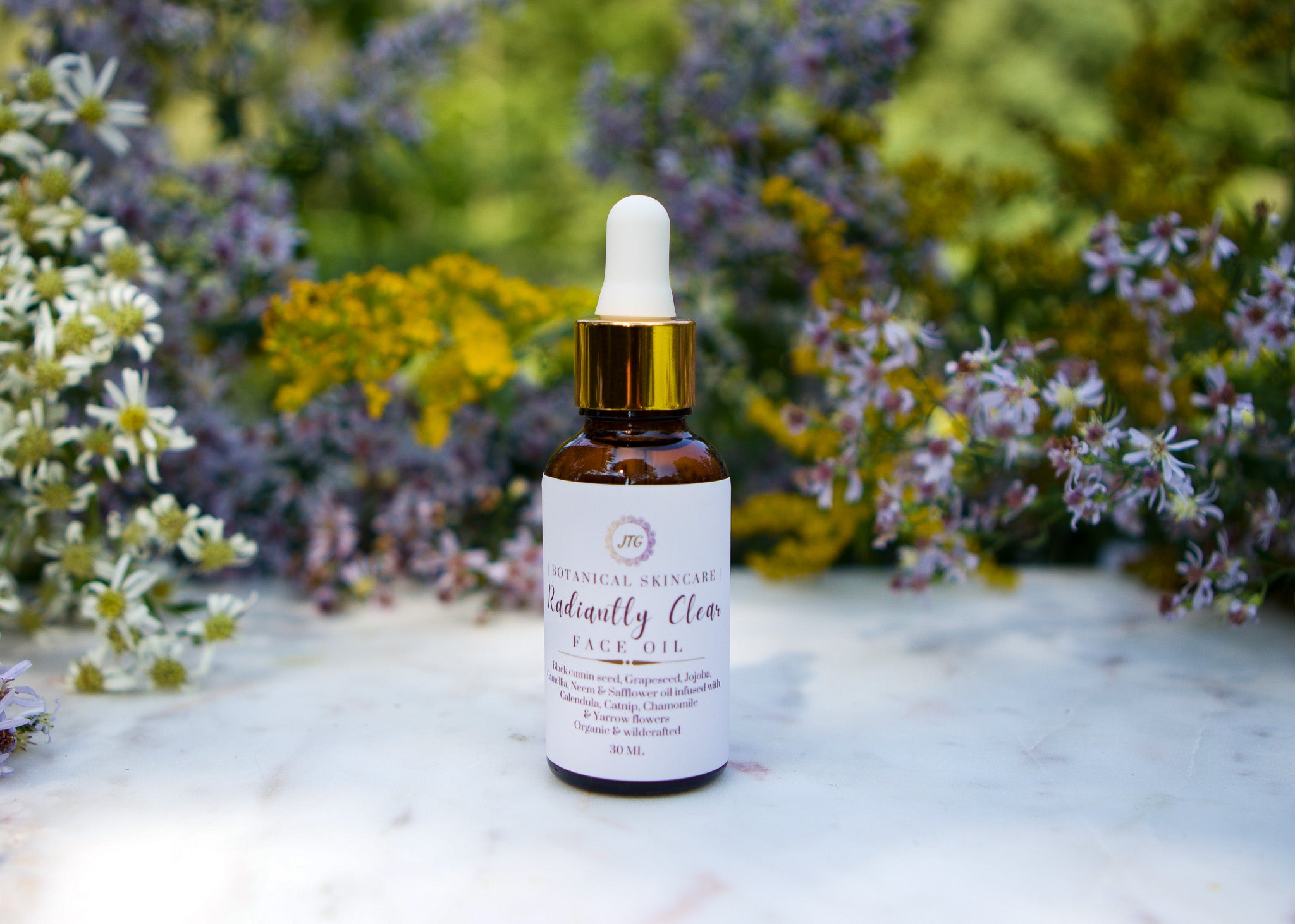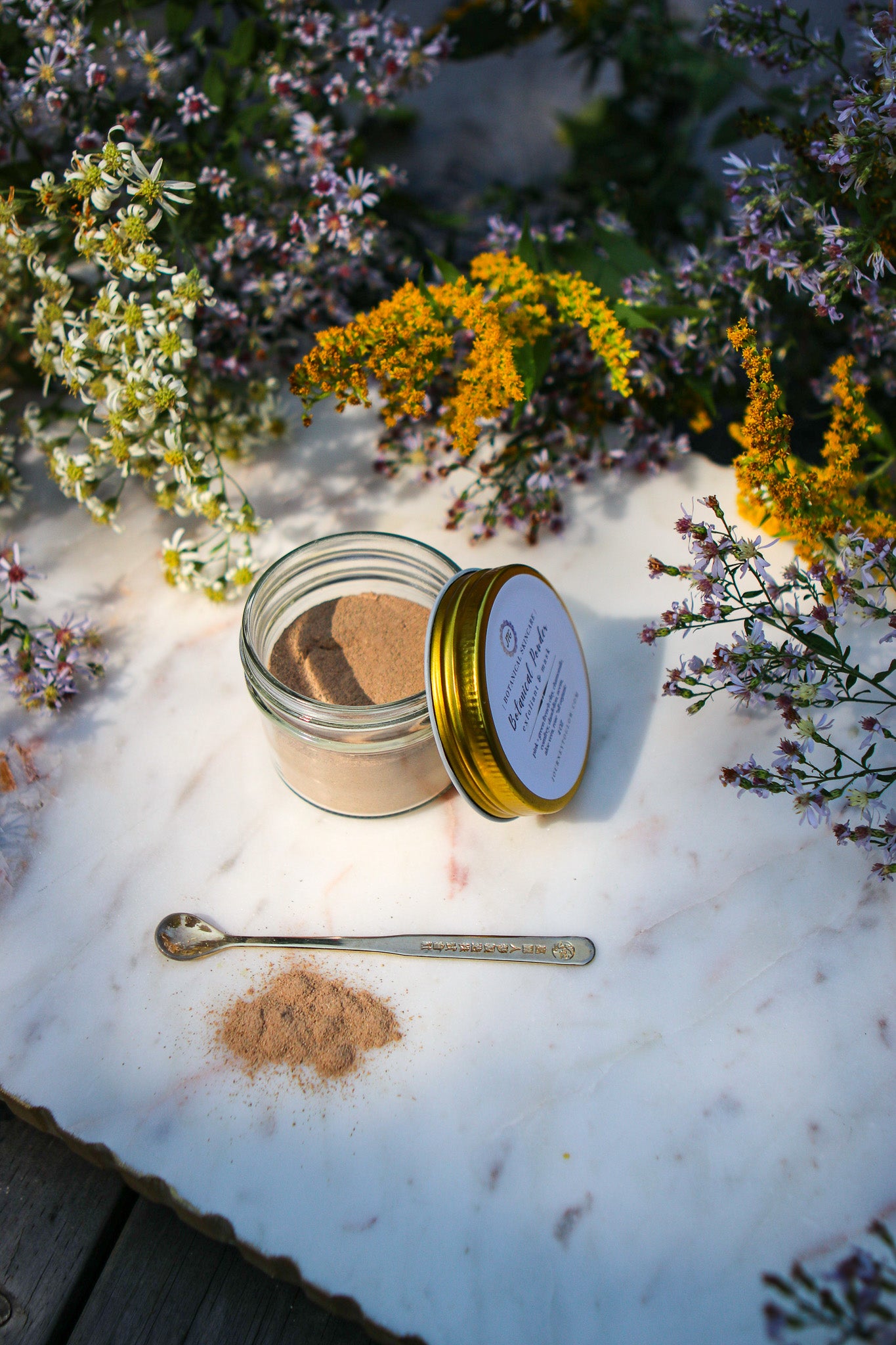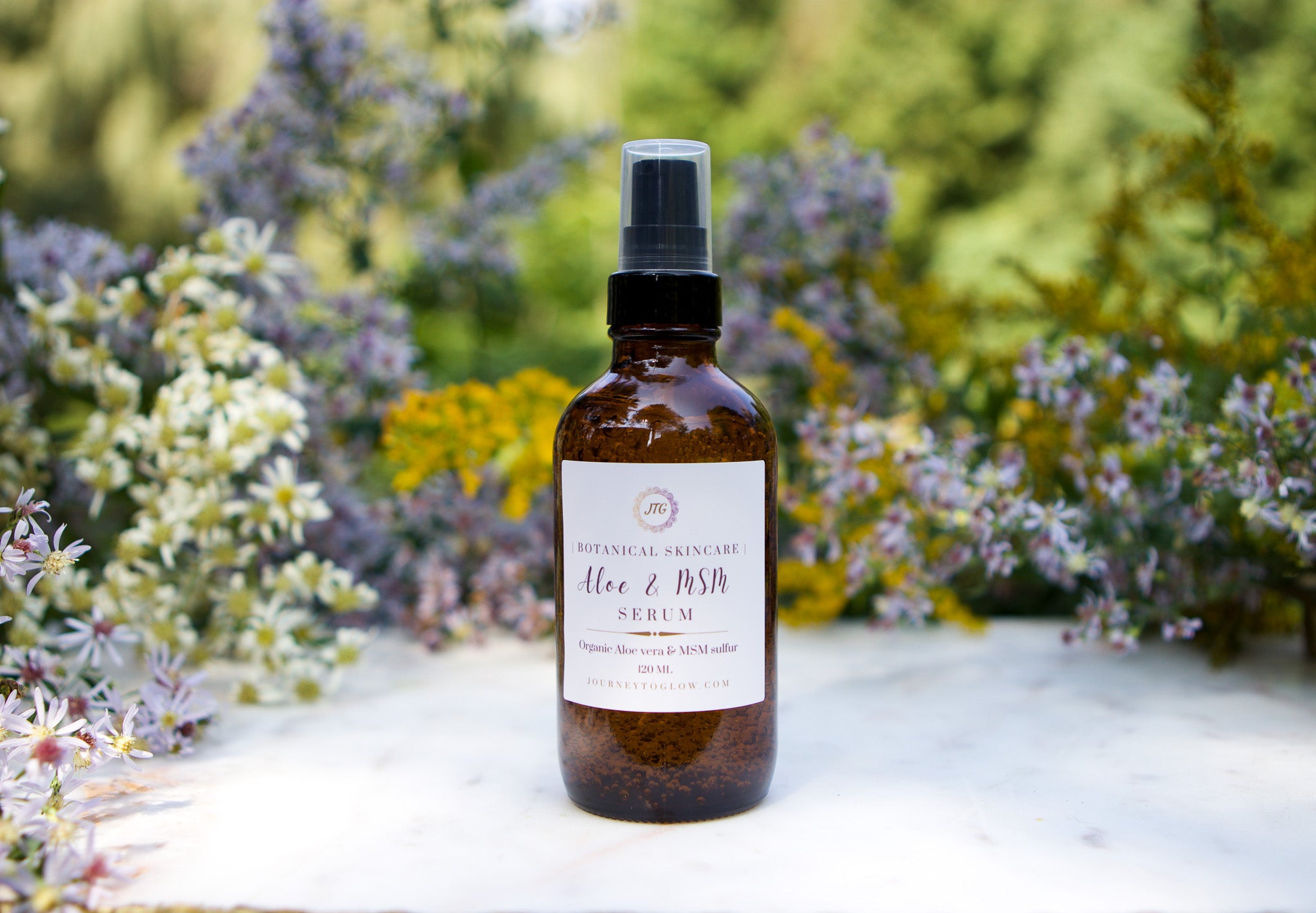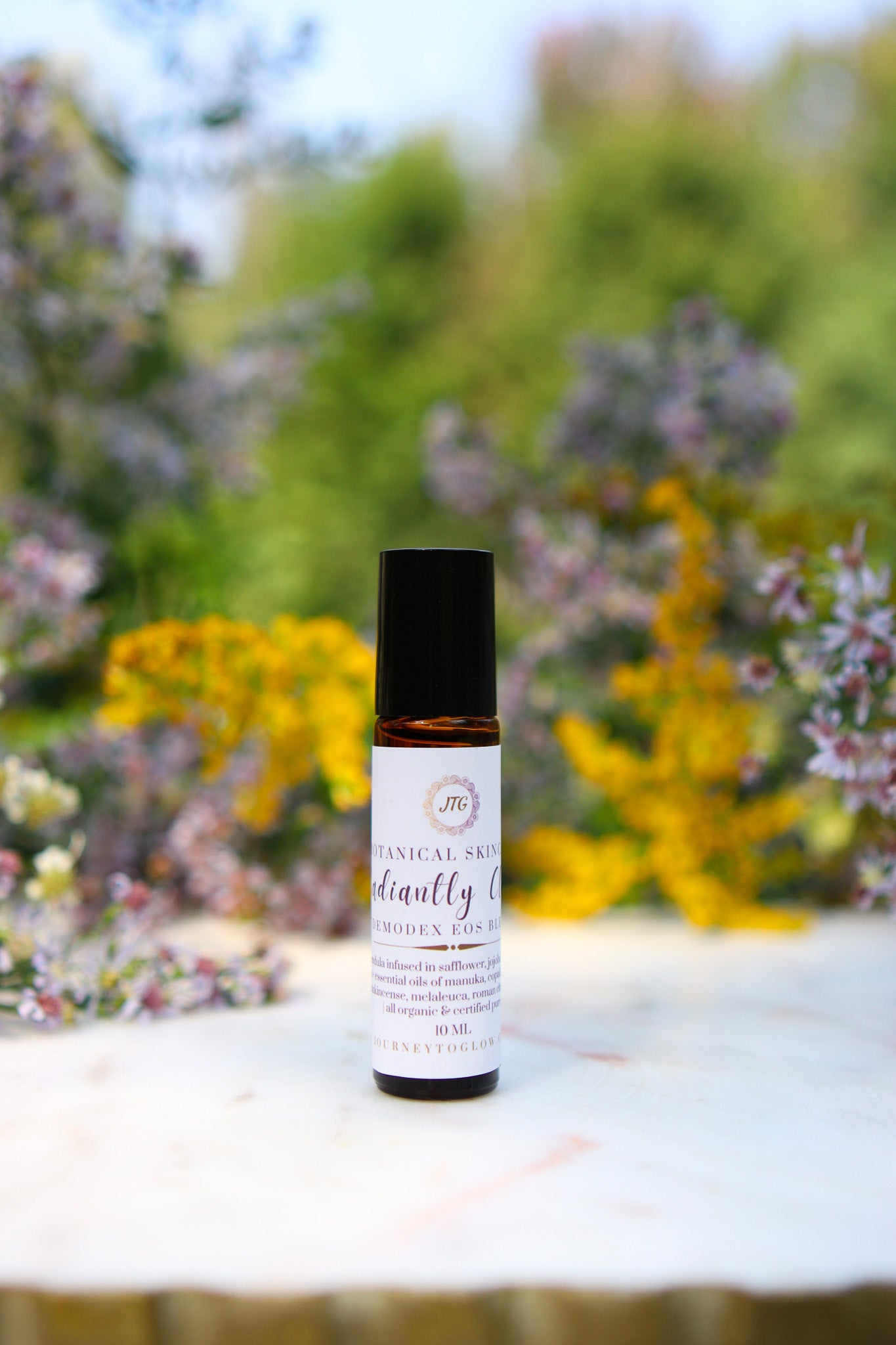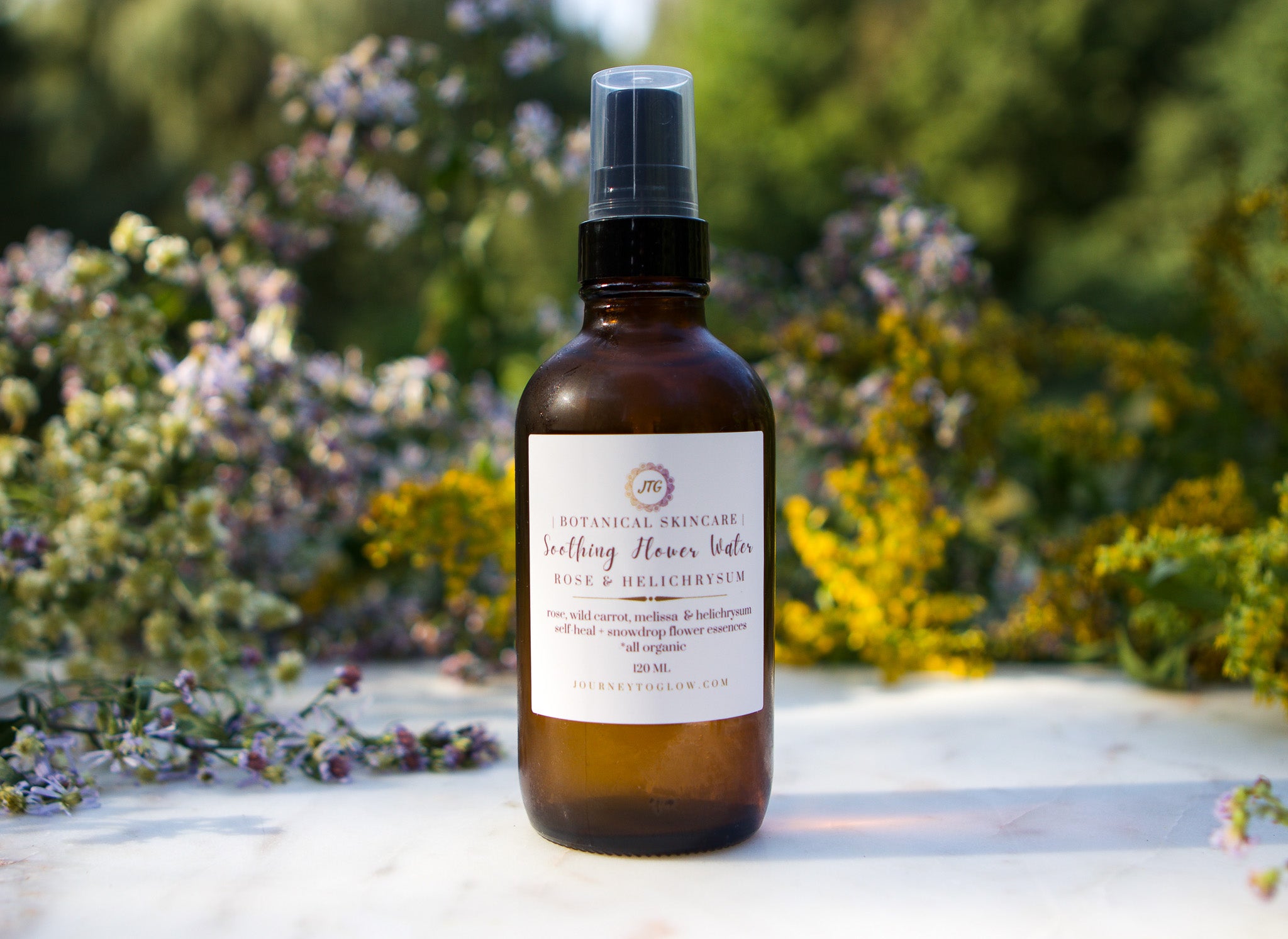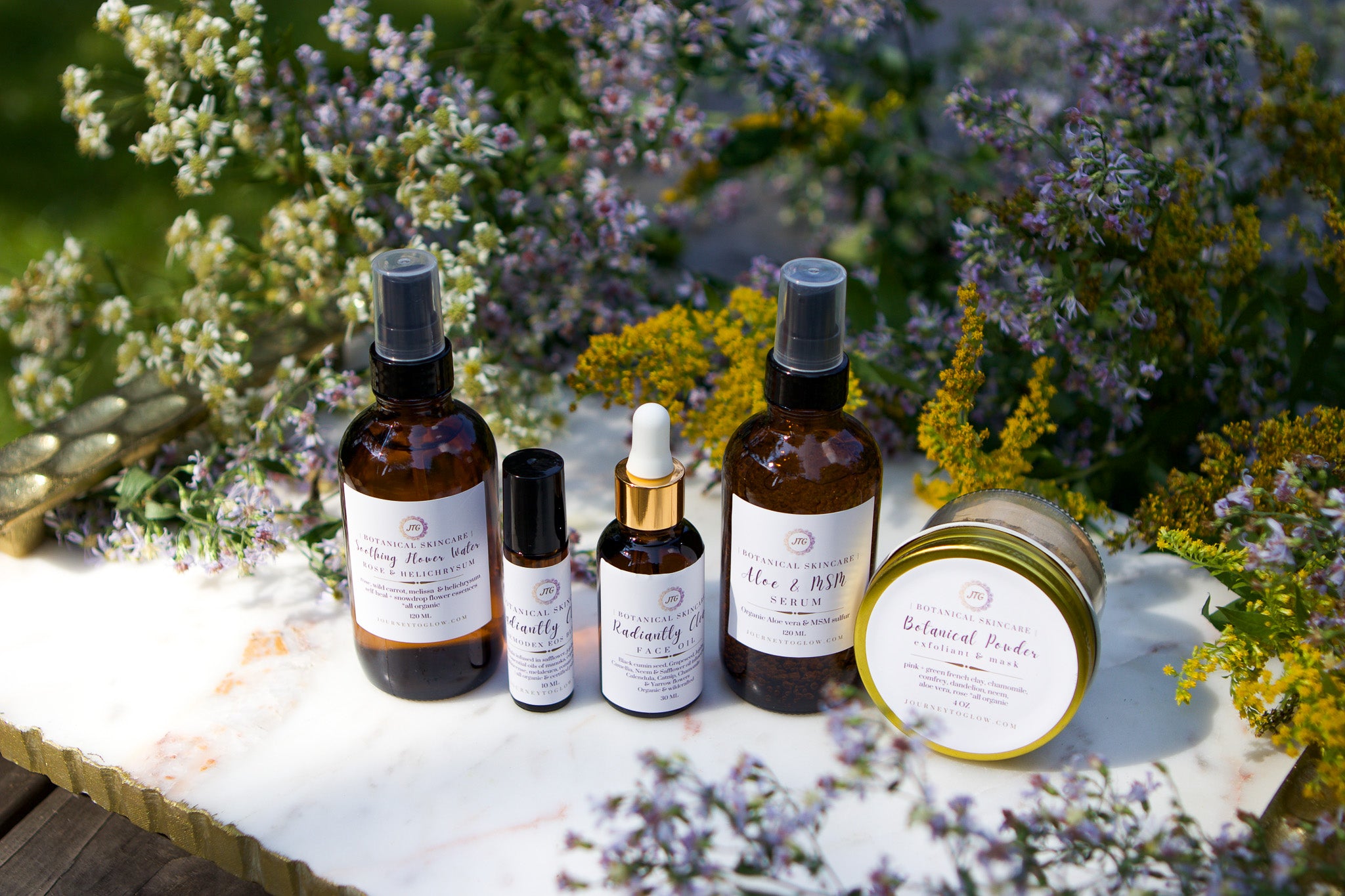 Radiantly Clear Rosacea / Demodex Botanical Skincare System
$255.00
Regular price
$290.00
off
Description
The Radiantly Clear Rosacea / Demodex Botanical Skincare System contains 5 products, each formulated with pure botanicals that soothe inflamed and sensitive rosacea skin while making the skin's microbiome unfavorable to Demodex mites, breakouts and bacteria.

Please read this article to learn more about Demodex mites and rosacea.
Most products on the market will completely destroy the acid mantle in an effort to make the terrain (your skin barrier) where Demodex mites live unfavorable. They will leave your skin extremely dry (some people report their skin "peeling off" using sulfur creams.) Since dryness is already an issue in rosacea skin, I wanted to create a skincare system that would nourish the skin barrier, calm inflamed skin, tighten pores (often an issue with rosacea) as well as tackle Demodex mites.
Demodex mites are found on every skin, however, they tend to overpopulate and do more damage on rosacea skin.
You'll know you have Demodex mites if your skin feels itchy (especially at night, but this could be midday as well, especially if you have immune or hormonal issues) and if you have red, inflamed breakouts that show up in a weird pattern on your skin, usually every 3 weeks. (This is due to the life cycle of Demodex mites.) 
The botanical products in the Rosacea / Demodex system are gentle and help rebalance + strengthen the skin's barrier.
Note that to TOTALLY get rid of Demodex mites and clear your skin, you'll have to address the (inner) root causes.
Can I use this system if I do not have Demodex issues?
Yes, this is a great skincare system even if you do not suspect Demodex. Each product is formulated for sensitive, rosacea skin and will reinforce your skin microbiome.
*You may buy the products individually or save $45 USD when you purchase the full system. 
How To Use
5-Step Rosacea / Demodex Botanical Skincare System

Taking care of your skin can be a ritual of self-love if you bring intention to the process. It's an opportunity to breathe deeply and send love to your skin. Your thoughts and feelings have tremendous influence on your cells — be discerning and use this moment as a healing ritual.

Make it a ritual:
1.Breathe deeply & centre yourself
2. Massage your skin with love
3. Watch your self-talk: how are you talking to yourself or your skin when you look in the mirror? Be kind to yourself, friend. Your cells are listening…

Step 1: Radiantly Clear Botanical Cleansing & Exfoliating Powder

Add about half a teaspoon of powder in the palm of your hands and spritz a bit of hydrosol until you have a consistency that's easy to apply to your face. You can also add purified water instead of hydrosol or honey if you want to make a mask.

Leave on for 5 to 10 minutes.

If your skin is very inflamed, gently pat the powder mix on your face, leaving it on for a few minutes so the botanicals can get to work. If you feel like your skin could benefit from deeper exfoliation, massage the powder gently.

Rinse abundantly with lukewarm water.

A NOTE ON TAP WATER: Tap water coming from cities or town is filled with chemicals as it is "filtered" using fluoride and toxic chemicals which can disrupt your skin's microbiome (and your health). Consider using an additional filter to remove toxic chemicals from your water — especially drinking water! Learn more about toxic chemicals in water and its impact on your health: https://journeytoglow.com/52

Step 2: Soothing Flower Water *not available in winter months

On a clean face, spritz the Soothing Flower Water (hydrosol) abundantly on your face. Inhale deeply, it smells divine! Allow to dry before applying the serum.

Step 3: Aloe Vera & MSM Serum

Apply half a pump of Aloe Vera & MSM Serum to localized area where you have Demodex breakouts. You can also blend it with the Radiantly Clear Face Oil by mixing half a pump of Aloe MSM to 6 to 8 drops of oil in the palm of your hand. Or apply Aloe MSM first then oil, experiement with what you like best!

Step 4: Radiantly Clear Demodex Essential Oil Blend

Apply directly on breakouts or areas of concern.
*If your skin is sensitive to essential oils, please patch test first or opt for products in the Calm Skin collection.

Step 5: Radiantly Clear Face Oil

Apply 6 to 8 drops on clean skin or mix with half a pump of Aloe & MSM

*Use your products within 6 months for optimum plant potency and leave in a cool, dark place.


Ingredients
Please see individual products for more information on the ingredients + medicinal properties of plants & flowers

Aloe Vera & MSM Serum:

Organic Aloe vera (Aloe bardadensis, Glycerin (emolient for skin), Carbomer (stabilizer), Triethanolamine (to stabilize and balance PH) , Phenoxyethanol (preservative)) and MSM (Methylsulfonylmethane) Organic Sulfur

Botanical Cleansing & Exfoliating Powder:

French pink + green clay, Organic Chamomille Flower Powder (Matricaria chamomilla), Organic Dandelion root powder (Taraxacum officinale), Organic Neem (Azadirachta indica), Organic Aloe Vera Powder, Organic Comfrey Root Powder (Symphytum officinale), Organic Rose Powder (Rosa spp)

Radiantly Clear Essential Oil Blend:

Calendula flowers infused for over 6 months in Organic Safflower oil, Organic Jojoba Oil, Organic Camellia and Organic Neem Oil (Azadirachta indica), Frankincense (from Boswellia carterii, frereana, sacra and papyrifera), Manuka essential oil (Leptospermum scoparium), Helichrysum essential oil (Helichrysum italicum), Roman chamomile essential oil (Anthemis nobilis), Copaiba essential oil (Copaifera reticulata, officinalis, coriacea,and langsdorffii), Tea Tree (Melaleuca alternifolia) essential oil

Soothing Flower Water:

Rose & Helichrysum Pure Hydrosol: Made with pure, organic Rose, organic Wild Carrot Seed, organic Helichrysum italicum, and organic Melissa (Lemonbalm).

The Radiantly Clear Face Oil:

Organic Black Cumin Seed Oil, Organic Grapeseed oil, Organic Jojoba Oil, Organic Camellia, Organic Neem oil, Organic Safflower oil, wildcrafted Calendula flowers, wildcrafted Catnip, wildcrafted Chamomile flowers, and wildcrafted Yarrow Flowers.

The Radiantly Clear Face Oil does not contain essential oils.
About the botanicals in this blend
Please see each individual product for a description of the medicinal properties of each plant used in this rosacea skincare system.
Radiantly Clear Rosacea / Demodex Botanical Skincare System
$255.00
Regular price
$290.00