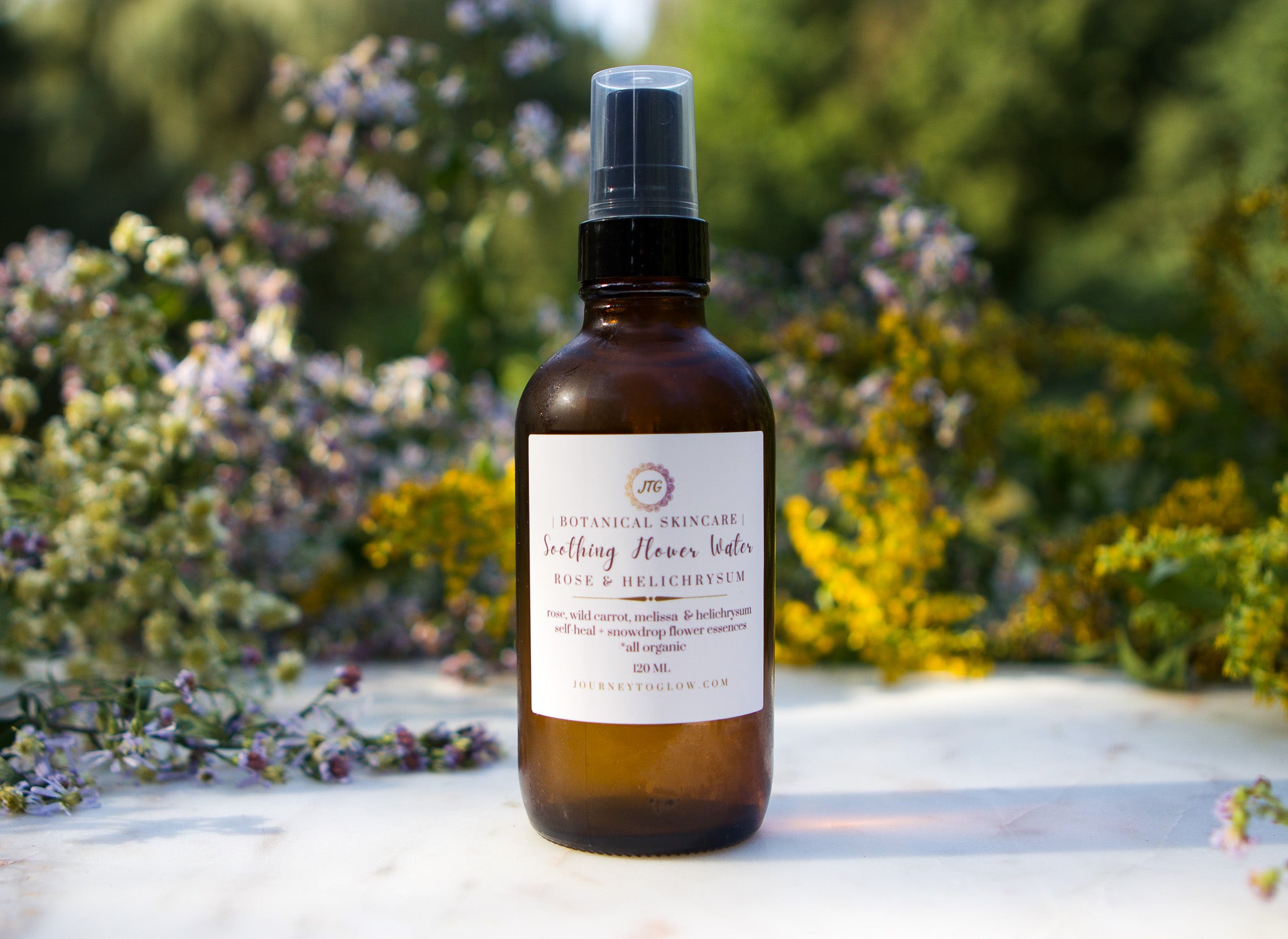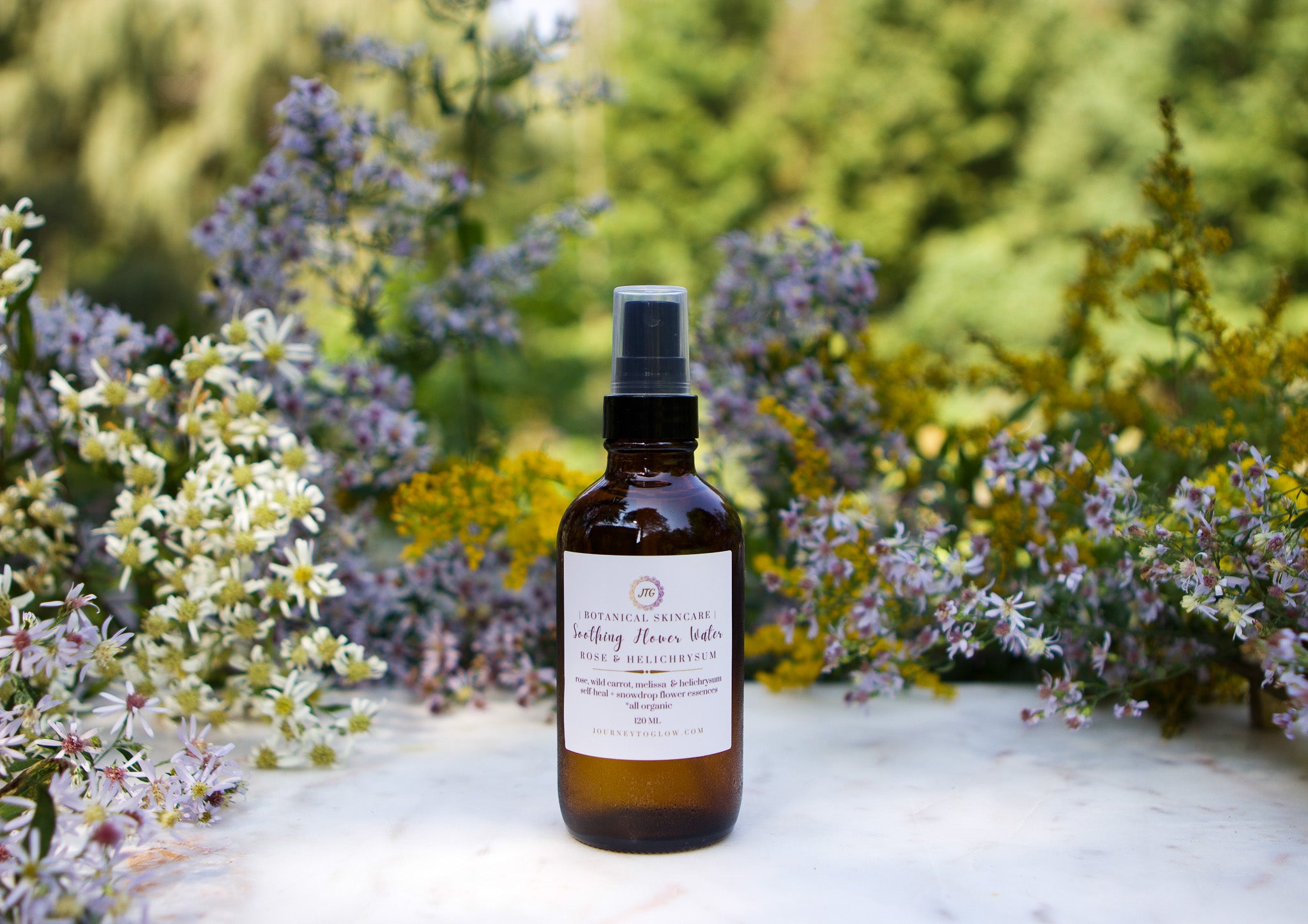 Soothing Flower Water: Rose & Helichrysum Pure Hydrosol
$27.50
Regular price
$35.00
off
Description
Soothing Flower Water Rose & Helichrysum is made from 100% pure flower distillate and does not contain alcohol.
This hydrosol leaves the skin feeling supple and nourished, ready to receive the benefits of the Aloe Vera & MSM Serum, Calendula Face Oil, or Radiantly Clear Face oil.
Hydrosols help balance the skin's PH, essential with fragilized skin barrier, which is the case in rosacea.
What are hydrosols?
Hydrosols are the alchemical process of steam distilling fresh organic plant material in a traditional alembic copper still, and transforming it into aromatic plant/flower water.
Botanical water contains micro molecules of essential oils from the plant, which makes them very gentle and safe. 

I purchase all my hydrosols from a local distiller that only uses organic plants, this ensures that this flower water is as fresh and luxuriant as it can possibly be.
120 ML
How To Use
Mist the Soothing Flower Water abundantly on your face. Inhale deeply. Allow to dry before applying the serum or face oil.

This Flower water can be used throughout the day. Pair with deep breathing exercises if you experience brain fog or fatigue.

TIP: Put your Flower Water in the refrigerator during the summer months for a refreshing midday, soothing mist.

*Use your products within 6 months for optimum plant potency and leave in a cool, dark place.
Ingredients
Made with pure, organic Rose, organic Wild Carrot Seed, organic Helichrysum italicum, and organic Melissa (Lemonbalm).

Please use within 6 months for maximum potency. Store in the refrigerator to extend shelf life or to experience a cool mist during flare-ups!
About the botanicals in this blend
Organic Rose Hydrosol
Refines pores
Soothes and softens
Restores hydration
Brightens the complexion
Promotes oil production equilibrium
Prepares skin to receive nutrients
Organic Wild Carrot Seed Hydrosol (Daucus carota) is excellent for all skin types but is especially recommended for sensitive skin or mature skin.

Carrot Seed Hydrosol is known to soothe eczema, psoriasis, and inflamed skin "conditions" such as rosacea.

As a facial hydrosol, it delivers nourishing, hydrating, line softening, skin-plumping goodness. It curbs inflammation, gently detoxifies, and works well with sensitive skin.

Organic Helichrysum italicum Hydrosol

Helichrysum, also called Immortelle or Everlasting, is cosmetically and therapeutically unparalleled in its ability to support skin healing. Beautifying and restorative, Helichrysum is potent, safe, and exceptionally effective.

Very few plants can match Helichrysum italicum for its affinity and effectiveness for use on inflamed skin. It excels at supporting supple skin health.

Mentally and emotionally, Helichrysum cools anger and can play a supportive role in emotional wound healing. Due to its cooling action, Helichrysum is also beneficial for tired, overheated, and inflamed skin.

Its aroma is rich, herbaceous, and honey-like.

Organic Melissa Hydrosol (Lemon Balm)

Antimicrobial, antioxidant, anti-inflammatory, antiviral, hydrating; Melissa is widely known to help stabilize mood by reducing anxiety and stress.


Soothing Flower Water: Rose & Helichrysum Pure Hydrosol
$27.50
Regular price
$35.00